4R:
Come and look at our learning!
About the Author
Published Monday, October 10, 2011.
Last updated: Friday, October 14, 2011
Can you write a short paragraph about yourself?
e.g.
Duncan was born in...This is Duncan's second book. He enjoys writing about ______ and _______. He gets a lot of his ideas from...
You can also include a picture of yourself.
Here are some examples of famous children's authors:
Dick King-Smith was born in Gloucestershire, surrounded by lots of pets. He began writing children's books after spending 20 years as a farmer and after another exciting job– a teacher!

Dick writes mostly about animals: his favourite animals are pigs, like the one in 'Babe' which you might know. He loves creating stories for children to read and enjoy.
Roald Dahl was born in Wales in 1916, after his parents moved to the UK from Norway. His love of stories began with his mother telling him fantastic tales from Norway about mythical creatures like trolls.
His first book was 'The Gremlins' in 1943. His own children inspired him to write lots of stories for children which are still very popular today.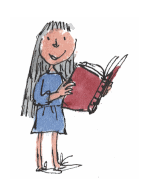 ---