Welcome to 6L:
This is the blog for 6L.
Maths Home Learning 22.11.12
Published Thursday, November 22, 2012.
Last updated: Friday, November 23, 2012
Last week I set a particularly difficult maths problem. After much discussion in class, I agreed to let you have two weeks in which to complete the Murder Mystery.
However, as it is possible that several of you have already completed the puzzle, I thought you might like this optional brain teaser to keep you going.
You can solve it using logic or algebra - good luck!
The Age Puzzle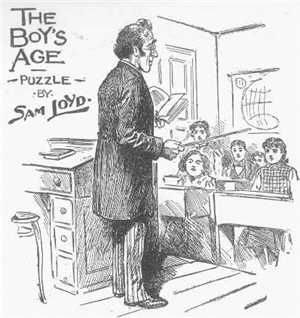 It appears that an ingenious (or mad!) teacher, aiming to bring together a number of older pupils into a class he was forming, offered to give a prize each day to the side of boys or girls whose combined ages would prove to be the greatest.

Well, on the first day there was only one boy and one girl in attendance, and, as the boy's age was just twice that of the girl's, the first day's prize went to the boy.

The next day the girl brought her sister to school, and it was found that their combined ages were just twice that of the boy, so the two girls divided the prize.

When school opened the next day, however, the boy had recruited one of his brothers, and it was found that the combined ages of the two boys were exactly twice as much as the ages of the two girls, so the boys carried off the honors of that day and divided the prizes between them.

The battle continued on the fourth day, when the two girls appeared accompanied by their elder sister; so it was then the combined ages of the three girls against the two boys, and the girls won off course, once more bringing their ages up to just twice that of the boys'.
The last young lady joined the class on her twenty-first birthday. How old was the little boy?
---
Home Learning 16.11.12
Published Friday, November 16, 2012.
Last updated: Friday, November 16, 2012
Maths Day
On Monday Y6 went Maths Mad as we went off timetable to celebrate the magic that is Maths! We used our problem solving skills to find the hidden treasure (who knew such riches lived under the classroom sink!). Some classes investigated the properties of 2D and 3D shape while others discovered how logical (or not!) they can be.
We also studied Chinese tangram puzzles, creating an amazing array of shapes which were the basis of some very creative artwork. Tessellations can be fascinating. Some classes discovered how to create a tessellating shape which they then used to create an interesting mosaic.
"It was an opportunity to show off how amazing you are at math."
"My favourite activity was the shape making because it was challenging."
"I thought Maths Day was very fun and let us bring all of our knowledge into maths day! "
"We did a Murder Mystery and found out about 2D shape properties."
"My favourite activity was the Murderer Mystery because we get to bring all of our knowledge into those clues and finding the answer! "
"Maths Day was a great opportunity for everyone to express their love for Maths. I especially loved completing the shape making activities and the awesome tessellating activity this afternoon! Go Maths!"
International Day was AWESOME!!!!
I knew that International Day was going to be big but I had no idea it would be BBBBBBBIIIIIIIIIIIGGGGGGG!!!!!!!!!
It was amazing to see so many countries and cultures represented with such pride. I was (of course) stunned by the wonderful displays at the food hall and expo.
Thank you to all the parents who worked so hard to give us this fantastic experience.
Literacy Home Learning
Next week we will start the next stage of our Moving People topic by studying slavery. For your home learning, I would like you to research a well-known person (see list below) who was connected with slavery and present this information as a fact file, leaflet or autobiography. If you know of someone else connected to slavery that you would rather research, you may do so.
Jane Smeal

Thomas Clarkson

John Newton

Olaudah Equiano

Granville Sharp

William Wilberforce
You can include pictures but it is your writing and information that I am most interested in. Remember to use ALL your writing skills and techniques to make this a mature piece of learning – different sentence types, good punctuation, great sentence openers and interesting vocabulary.
---
Maths Home Learning 15.11.12
Published Thursday, November 15, 2012.
Last updated: Friday, November 16, 2012
This week's home learning is a problem solving activity. Each student has been given a booklet containing details of a dastardly crime, a list of suspects and 5 clues to help them identify the culprit.
This home learning will require you to use logic, as well as maths and will require some research - particularly for clue 5.
Extra copies of the booklet can be found here.
As the home learning may take longer than usual, you may have 2 weeks to complete it.
---
------------ no comments -----------
International Day
Published Friday, November 09, 2012.
Last updated: Friday, November 09, 2012
Welcome back musicians!
Our classroom was very quiet at the beginning of the week as 6 children were away at music camp. As much as we missed them, we decided we were actually glad they had gone away when we saw how tremendous and talented they are as they wowwwwwwed us at their return concert.
Many more photos can be found here.
International Day and Literacy Home Learning
I am very excited about Tuesday's International Day as it will my first one at Patana! I have my kilt all ready.
Hopefully, NOT what I will look like next week!!!
The parade is due to set off from the back field at 8am so please come to school in your costume and come to class at 7:30 for registration. We will go downstairs at approximately 7:45 to meet parents and assemble in our courtry groups.
We will have time during the day to visit the food hall to sample a whole range of food from around the world and also to visit the expo to find out about other countries.
To help get into the International spirit, I would like you each to prepare a 5 minute presentation about your own country. Please be ready to stand up and explain to the whole class why your country is fantastic!!!!
---
Maths Home Learning 8/11/12
Published Friday, November 09, 2012.
Last updated: Friday, November 09, 2012
This week's Maths home learining asks you to use logic, interior angles, X angles and Z angles to calculate as many different angles as possible on a sheet covered with a curious mixture of lines. A copy of the sheet is with your home learning books but there is also a copy here.
---
------------ no comments -----------