As the original British international school in Thailand and the largest international school, we are committed to ensuring our students receive a top quality education from highly qualified, committed teachers with a passion for education and international living.
Meet the new teachers for Bangkok Patana School for 2019/20!
Damon Parker - Cross Campus Teacher Librarian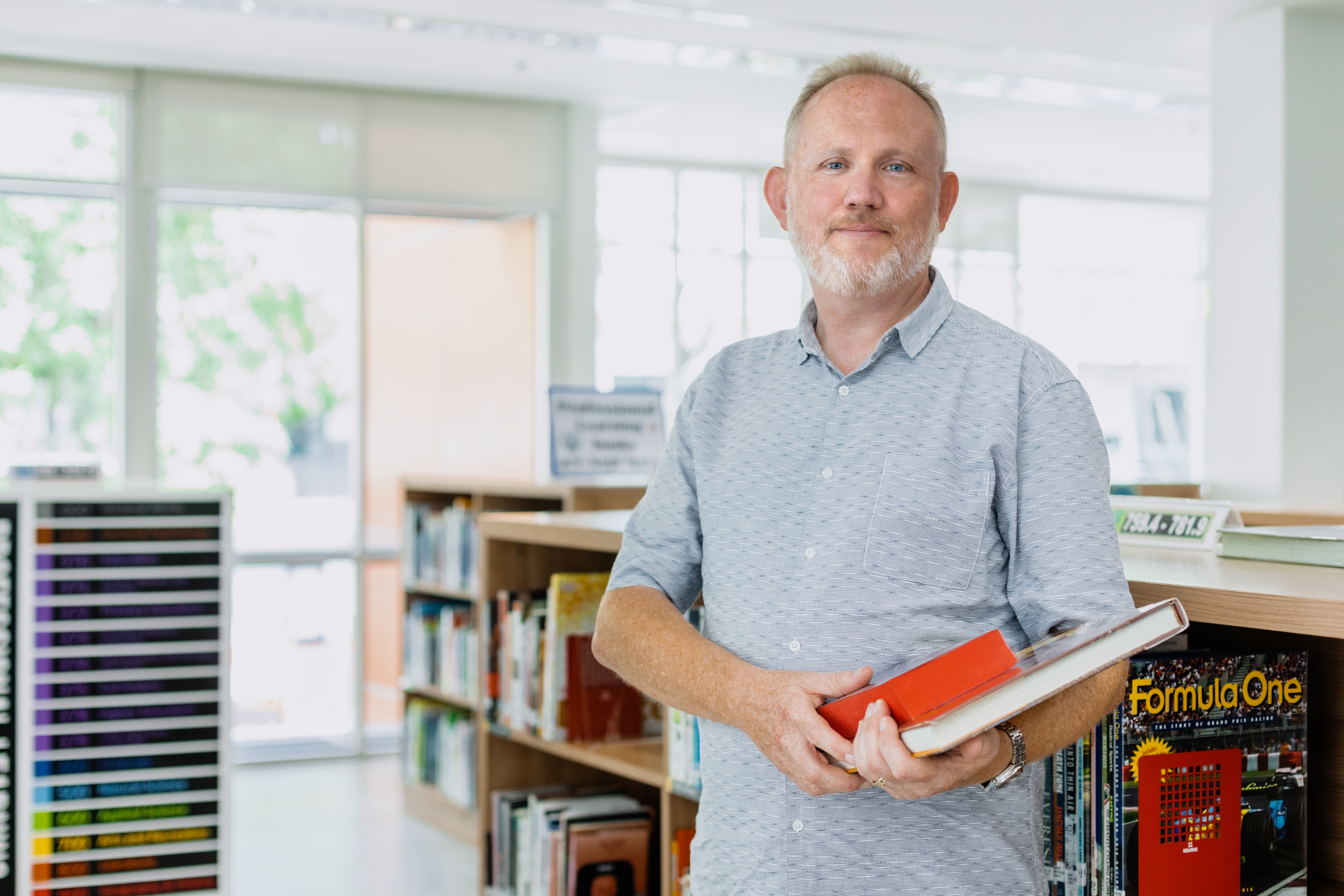 Damon has been living in Bangkok since 2005 and earned his BSc in Librarianship while volunteering in a school and his PGCEi followed a few years later.
"'I've spent the last few years in a classroom, teaching Mathematics, TOK and coordinating the Extended Essay, so now I am excited about taking that experience back to a library setting and my passion for engaging children with books and stories. Books and stories are for everybody. Even though many people would rather not read, if they engage in the right book, everybody can love reading. Kids face too many distractions and instant gratification but what they have to realise is that there is no film without a story and stories live in books.
I think it is important for a good librarian to be organised. I admit, I like order. Everything should have its place and be put there, a library is the ultimate organised environment.
A librarian has to be someone who is willing to spend the time on small details. Particularly in a school, you have to have a passion for sharing books and reading stories.
I would like to get the students more involved with their library; loving it and caring for it themselves. I know a few Years already act as apprentice librarians, but I would like to see everybody do it, they can learn to look after the library and be shown how, and to have systems in place.
My wife and I are here in Bangkok and both of our daughters are in the UK with our youngest beginning her studies at Winchester University. My wife and I both enjoy traveling together, and I particularly love going to concerts. We've seen Coldplay, Ed Sheeran, Elton John and Rod Stewart, all in Bangkok.
As a librarian it is hard to pick a favourite book; I enjoy so many genres, but the problem is I don't re-read books so much like some do. I think I know that story and there are so many stories out there. I do love "What Do You Do with an Idea?" by Kobi Yamada, it's a picture book that speaks on so many levels, it has such a fantastic theme that you should nurture ideas and it speaks to any audience.
I would like the parents to know that I am very friendly and more than happy to help people choose books, even parents, if they would like advice I am happy to share.
Putporn (Ball) Chantawannop - Cross Campus Assistant Head Tennis Coach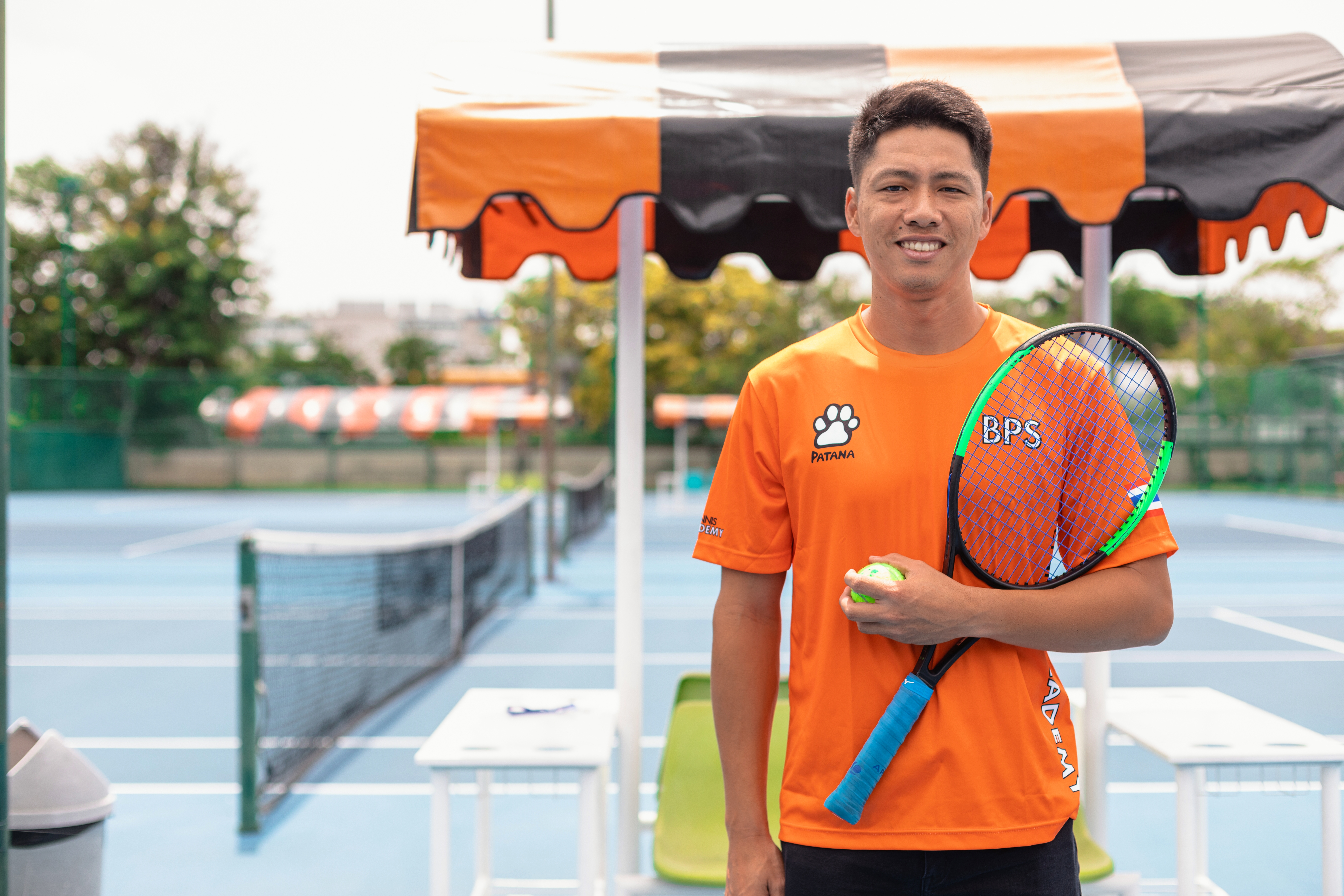 Putporn (Khun Ball) studied professional tennis coaching at Sripatum University after competing in professional tennis for several years.
"I first started playing tennis when I was 13 and I was a student and my dad played tennis every weekend with my uncle. He always brought my sister and I there and so we started courses and my sister plays too. She is on the Thai National team for Under 13. I was in the Thai University team for tennis for ASEAN University Games in Vietnam.
I trained full time as a professional tennis player before going back to school.  I continued working professionally but finally realised that it was time to stop travelling and settle down. I now have a wife and a young son. I went back to school and learned how to be a tennis coach and have worked at several international schools expanding their tennis programs since.
I think attitude is what makes a good tennis coach, you have to communicate. Tennis is such an individual sport; each student has different access and you have to find the right way to communicate with them. Students have to be open and have a good attitude to learn this kind of sport. In tennis, if you are smart enough, you will find the right way to play against someone else – the physical side is not that important, it's more about thinking and planning. You have to learn what you have and then use that ability in tennis.
I've been to Bangkok Patana School many times in the past, bringing students here to compete. The facilities here are really great, I can see that every year or two the facilities are improved. Tennis courts are resurfaced and improved on a regular basis.
This year my goal would be to get involved with all the kids in all areas as much as possible. Then I would like to learn more about which parts of the tennis program I can help improve and make better. Also, this is the first time I will be teaching PE as tennis and not just an ECA.
I am very passionate about tennis – I know every child is different and each one has different goals, so I am flexible and try help them fit into the most areas, to try to make them happy when they play tennis."
Alexandra (Alex) Alford - Year 3 Teacher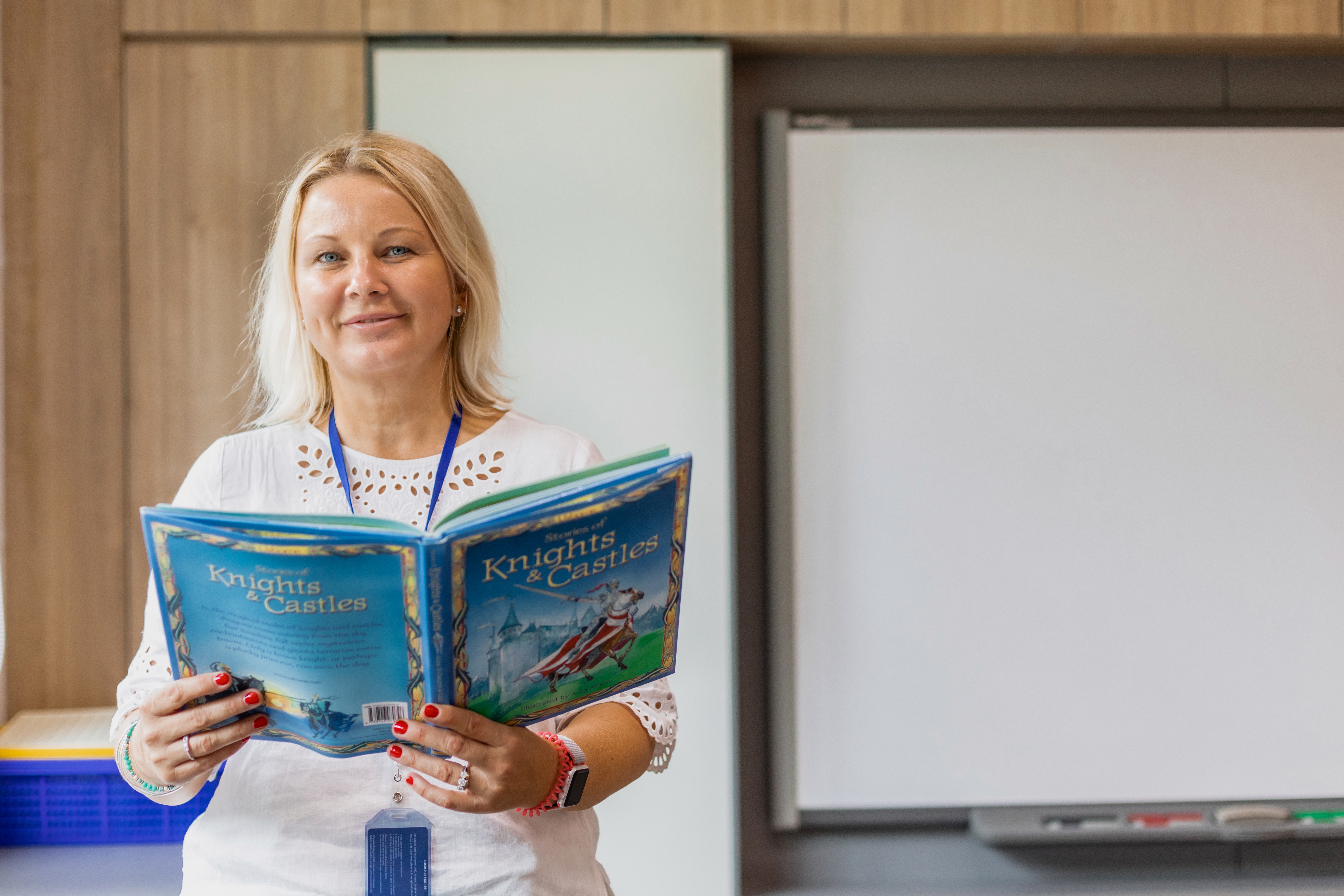 Alexandra (Alex) trained and qualified as a teacher 13 years ago in Birmingham in the UK and completed a PGCE SCITT course in inner city schools.
"I initially went into education after working with development aid agencies for children, I wanted more direct interaction, working with kids as opposed to just working for kids. I really like working with kids.
Two years after qualifying in the UK, I moved to Kuwait where I worked my way up the ladder to SLT level at The British School of Kuwait. That is where I met my husband and retired from the Army accepting a job in Brunei at the Hornbill School, back in the classroom as a teacher where I taught the children of the famed Gurkha regiment as well as children of other serving personnel.  After a year or two in Brunei, we decided to start a family. My son Arthur, who is now 5 and going into Year 1 next year, was born in Brunei. I kept up with the Army theme teaching the children of service personnel in Germany, and as the army withdraws and schools close, we decided to return to South East Asia.
My husband is also training to be a primary teacher and our son is starting Year 1 at Bangkok Patana School. We really enjoy rollerskating and I recently did a course in meditation and mindfulness. I am also doing some online courses including a TEFL. I just finished the Middle Leadership Course in the UK and the MPQML.
I think it is really important that a teacher must be able to relate to kids or it won't work. You need to be a good listener, be kind, understanding, caring, nurturing and consistency and fairness. Be motivated and organised – you need to be as a teacher. It helps to be funny and you need to be flexible, positive and encouraging.
Year 3 is a really important year for the children as they move from KS 1 to KS 2 – my job is to make them as comfortable and as happy as they can be. They come in a little bundle of nerves and worry and I want to send them out confident and happy, having had an ace year and learning loads. I want to make sure they come out buzzing and confident at the end of Year 3 with all the skills they need to know for the next years.  I want them to reach their potentials.
I will do the best I can for them and get the best out of them. They will be safe and happy, and I will care for them as if they were my own. I do look at them like I am borrowing them on a daily basis.
Daria Kirbai - Primary EAL Teacher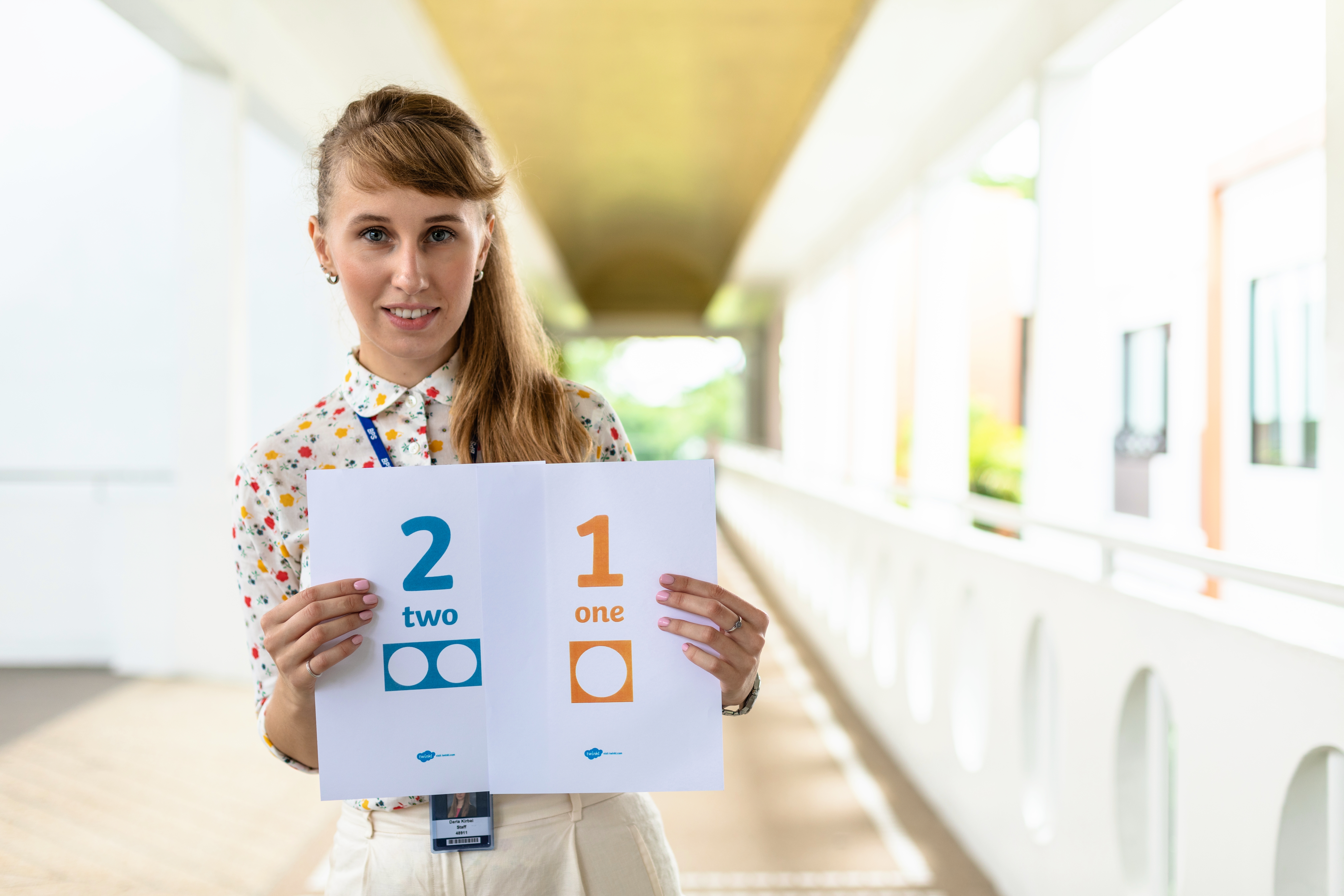 Daria (Dasha) Kirbai, obtained her degree in Teaching EAL in Moscow and her iPGCE from the University of Sheffield, she has taught EAL and foreign languages in New Delhi and Moscow.
"I come from a small city about 100km from Moscow, my mom brought me up alone and I was into languages since a very young age. She worked hard to get me into a new school, when I finished, I entered the university in Moscow. I taught in New Delhi for a year but it made me realise I wanted to settle down a bit so I returned to Moscow and worked there in the foreign language department of an international school. I really enjoyed spending time exploring the city, I really enjoy building networks with other international school teachers.
I am here with my partner Johannes, and we are loving Bangkok, we go out together exploring markets, and hands on exploring the city, it is amazing!
In Russia there is a National Teachers Day – everyone in Key Stage 4 is required to teach lessons to younger kids at school. I never thought I would end up teaching but then when I was in Year 10 and Year 11, I did this teaching apprenticeship for one day and I really loved it. I didn't expect the kids would be so welcoming, and the input I received after the class, they loved it. I felt so empowered and I thought to myself, yes, I want to work with kids.
I think every teacher needs to have a passion for her subject, for children, a sense of humour and patience! I specialise in teaching English as a Second Language, I've been focusing on building people's compassion towards children who don't have English as their first language. I want to build cultural competence and that teach our students that we all come from different places. The English lanaguge leads you to so many opportunities in the world. English is the global language and without it you can't become a citizen of the world.
I have a few goals, because I am going to working with many teachers, with EAL support, to build strong relationships with students and teachers, bringing well-being to the forefront and helping students find balance in life.
Donna Fry - Year 1 Primary Teacher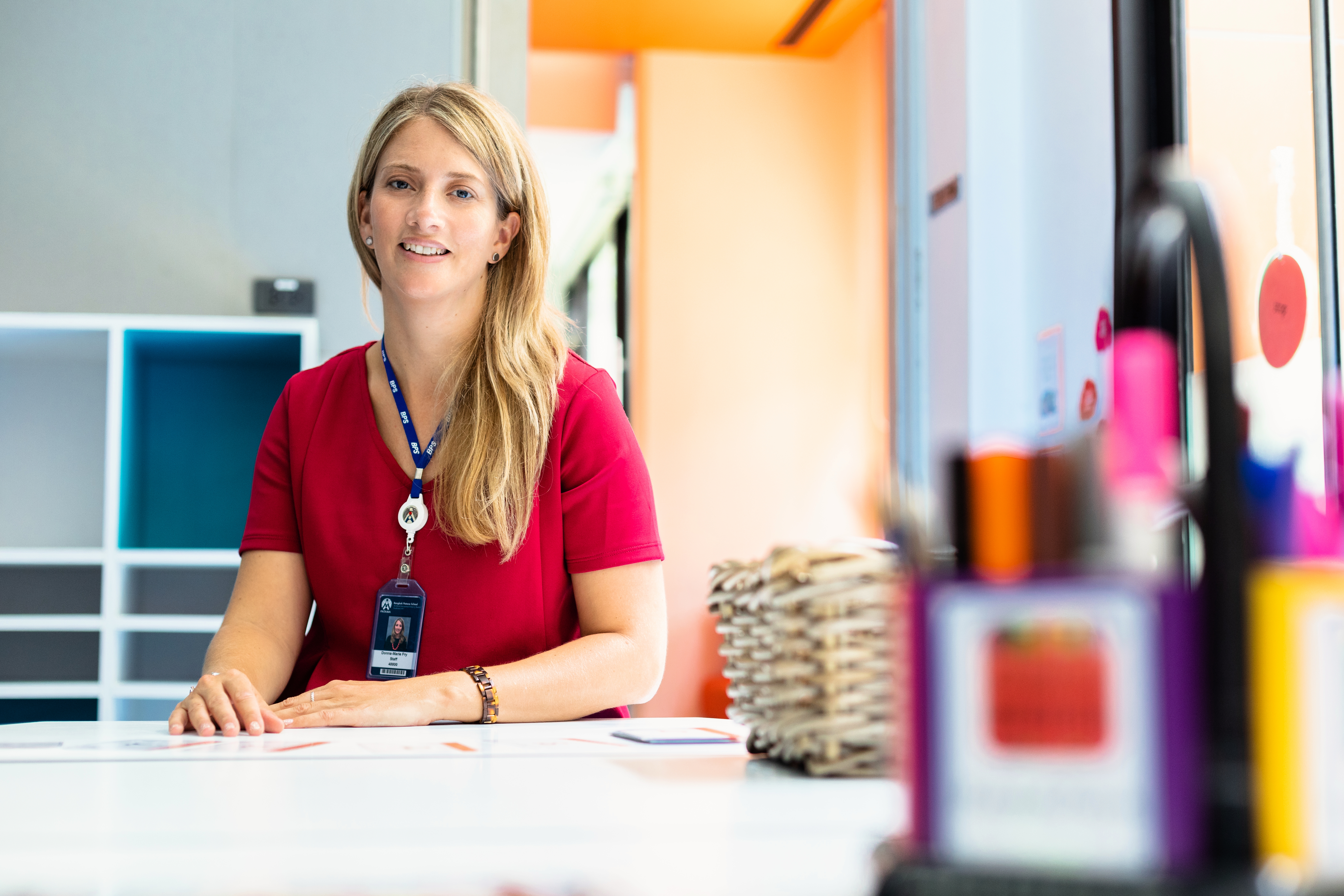 Donna trained at the University of Winchester, after university she worked in Southampton before moving to Spain to teach. Most recently, she taught in Yangon, Myanmar for three and a half years.
"I grew up in rural Dorset, my village had less than 15 houses in it. We didn't have a pub or a shop, the nearest shop was 10 miles away! In addition to teaching I also took some time out to travel and even worked for a season in the French Alps. I loved it in Yangon, so I am used to South East Asia, I've traveled a lot around the area. I've spent quite a bit of time in Thailand. The traffic in Yangon was much worse than Bangkok so Bangkok traffic seems peaceful in comparison!
Living in Myanmar is what inspired me to do my Masters in Reconciliation and Peace Building through Winchester, I try to link it to Peace Education. So, I don't have a lot of time. Outside of school, I try to improve my Spanish conversational skills, love attending my fun and feminist book club and I am also a fan of board sports and can't wait to try wakeboarding in Thailand.
I decided I wanted to become a teacher in Year 10 when I did work experience in a nursery and thought, yes this is what I want to do. By the age of 15 I knew just loved this. Ispend the whole day laughing, that is why I love my job. I have the best job in the world. I think it is really important that a teacher is someone who puts the children first in everything they do. Someone who is passionate and flexible and changing the learning to suit the needs of the student.
My first reaction to Bangkok Patana School was Wow! The thing with Patana is, if you work in international schools you already know it is going to be amazing before you get here because you know its reputation. The size and scope of it was quite surprising, the resources and size are amazing.
I would like the parents to know that I will always love to talk with them, I really enjoy communicating with parents about school, about life outside school, about their child. To never be afraid to come and talk with me, I am always here for a chat if there is time. I would much rather they came and spoke to me about everything.
Gemma Price - Foundation Stage Teacher PE Specialist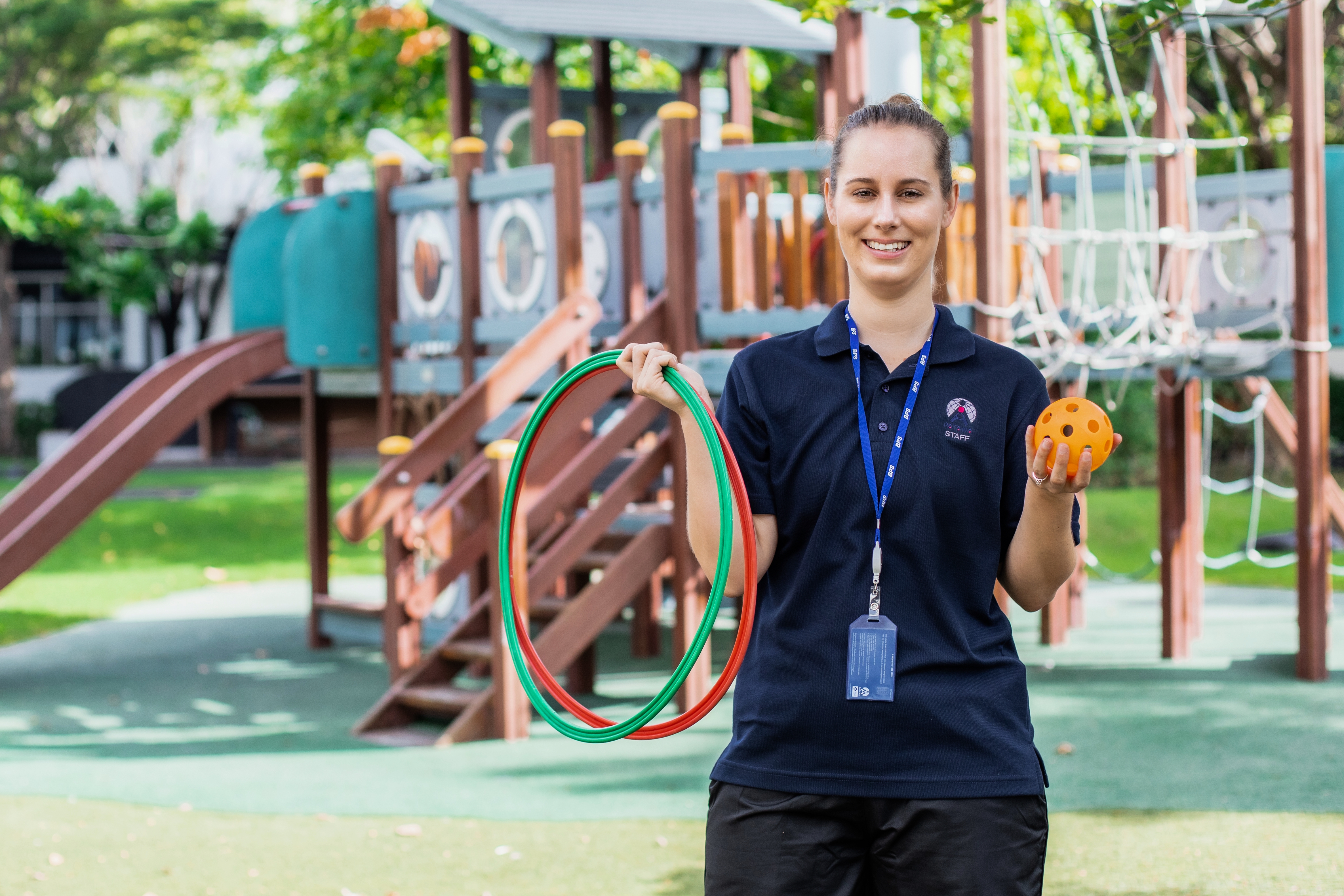 Gemma is from Melbourne in Australia and obtained a Bachelor's of Physical Education from Deakin University. She has taught in schools in Australia, England and Thailand as well as volunteered in local schools in India and Vietnam.
"I have been living in Bangkok for six years with my husband Kevin and our son Noah. We love it here; the weather, the food, the people. I really enjoy traveling and since I speak a little Bahasa Indonesia, we often travel to Indonesia for holidays. I play netball and enjoy spending time outdoors.
I was amazed when I first saw Bangkok Patana school, at how well-resourced it is, how everyone is really friendly; you feel welcome and included. The facilities here are amazing, being in Thailand you can compare it to other schools and can see it's really a great school.
As a teacher I think a great teacher has to know their student and build positive relationships with the kids, the parents and the staff. It is important to be knowledgeable and know what the child really needs to learn but also make sure they are happy at school and in a safe, secure place.
It is so important for kids to have that physical development, to get out there and be active and do things that kids should be doing and not be cooped up inside. Physical development allows kids to be kids. My goal is to help the children develop their best growth in fine motor skills and help them improve that over the year. I want the kids to be happy and enjoy learning and be a part of the learning."
Helen Dunford - Year 6 Primary Teacher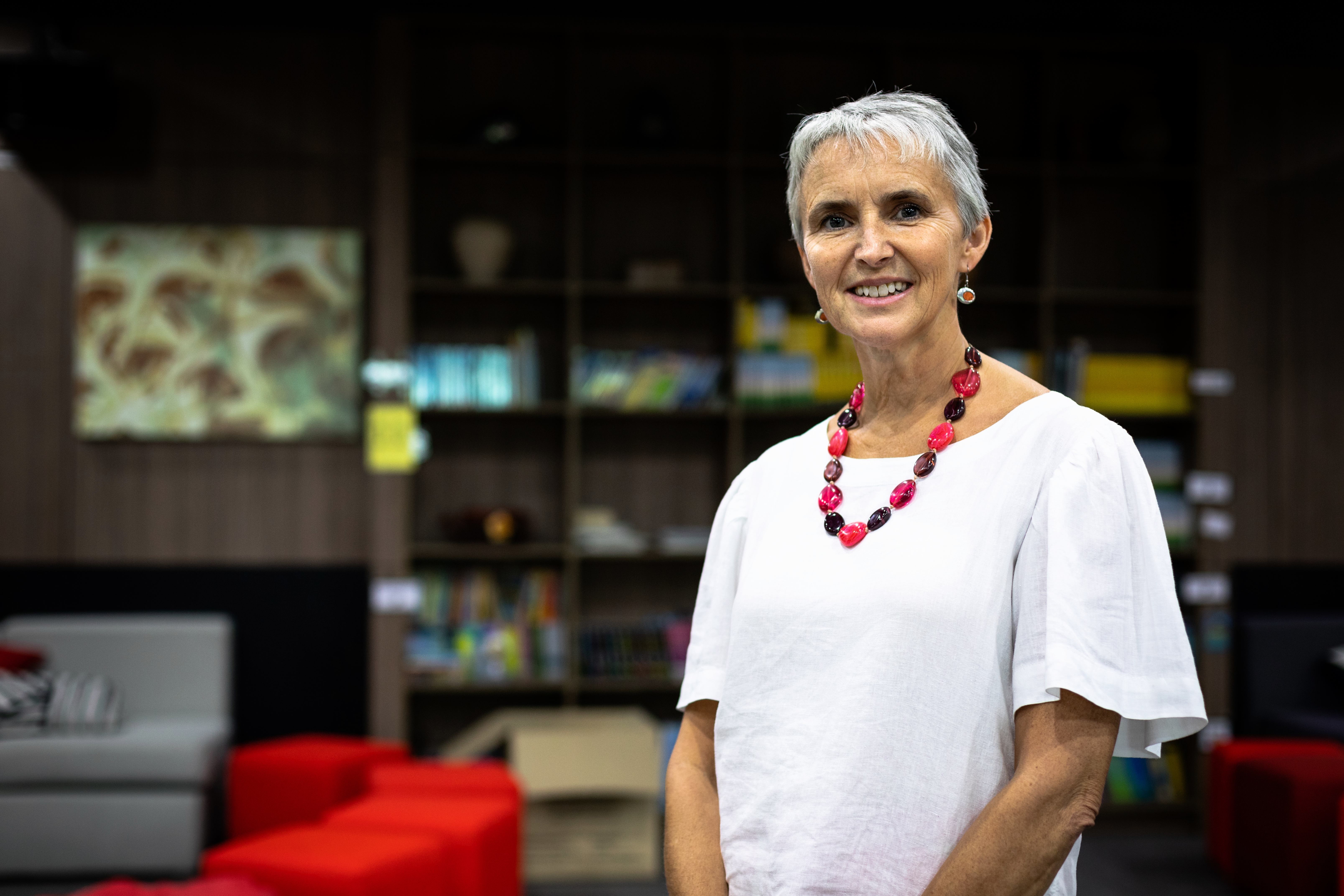 Helen has been a Primary School teacher for 30 years, and obtained her B.Ed from the University of Reading before entering the teaching profession. She spent her career in schools in the Home Counties as well as working for a British Forces school in Germany.
"I am from a small market town called Tring in Hertfordshire, I went to University in Reading and then straight into education. It's been my life and joy and it still is today. I've been living to work; I love what I do very much. My husband Hugh is here with me, I have left behind our three grown up children, two of whom are entering University and our eldest has graduated.
I've always wanted to live somewhere where its warm because the British winters can be really harsh. Leaving the air-conditioned classroom and going out into that warm environment puts a smile on my face. We are learning to play Bridge, it's quite challenging. We've always been a card loving family and we decided to learn about a year ago. We've already met some fellow Bridge players and we have some new Bridge buddies!
I really love teaching, I think because it's such a varied role, you are working with children, their parents, your colleagues – you aren't sitting at a desk all the time and you are watching the children grow and develop. It's an interesting job because it's about people and people fascinate me.
I think a good teacher is someone who knows every child is an individual, someone who is super organised and hard working. Passionate about their subject, really loves their job. If you are happy in the classroom teaching those children that is going to come across and they are going to enjoy what they are learning. And you need a sense of humour.
I am teaching in Year 6 and this is a crucial year because it is a year of great change – they are at the top of Primary School and that comes with a lot of responsibilities and pressures. You are leading them on that journey to Secondary School and further independence. Children by that age are starting to know what they are like as a person and you can help shape the direction that they go in.
Personal goals for me are to integrate technology into my teaching practice and for my students for them to be the best that they can be, to always try their hardest and have fun doing it, to have fun learning.
I am very big on community, I lived in Tring for 13 years and became really involved in the local heritage society and our local mediaeval church. I was the events manager, organising fund raisers; barn dances, and the annual family fun day and all families would come and get involved in fun events. I am a big believer in community and voluntary work and giving back to society. I've always been someone who volunteers. Having an 'I can' attitude to life is one of my philosophies in life. 'I can give that a try'."
Kirsty Hallsworth - Primary Extended Learning Teacher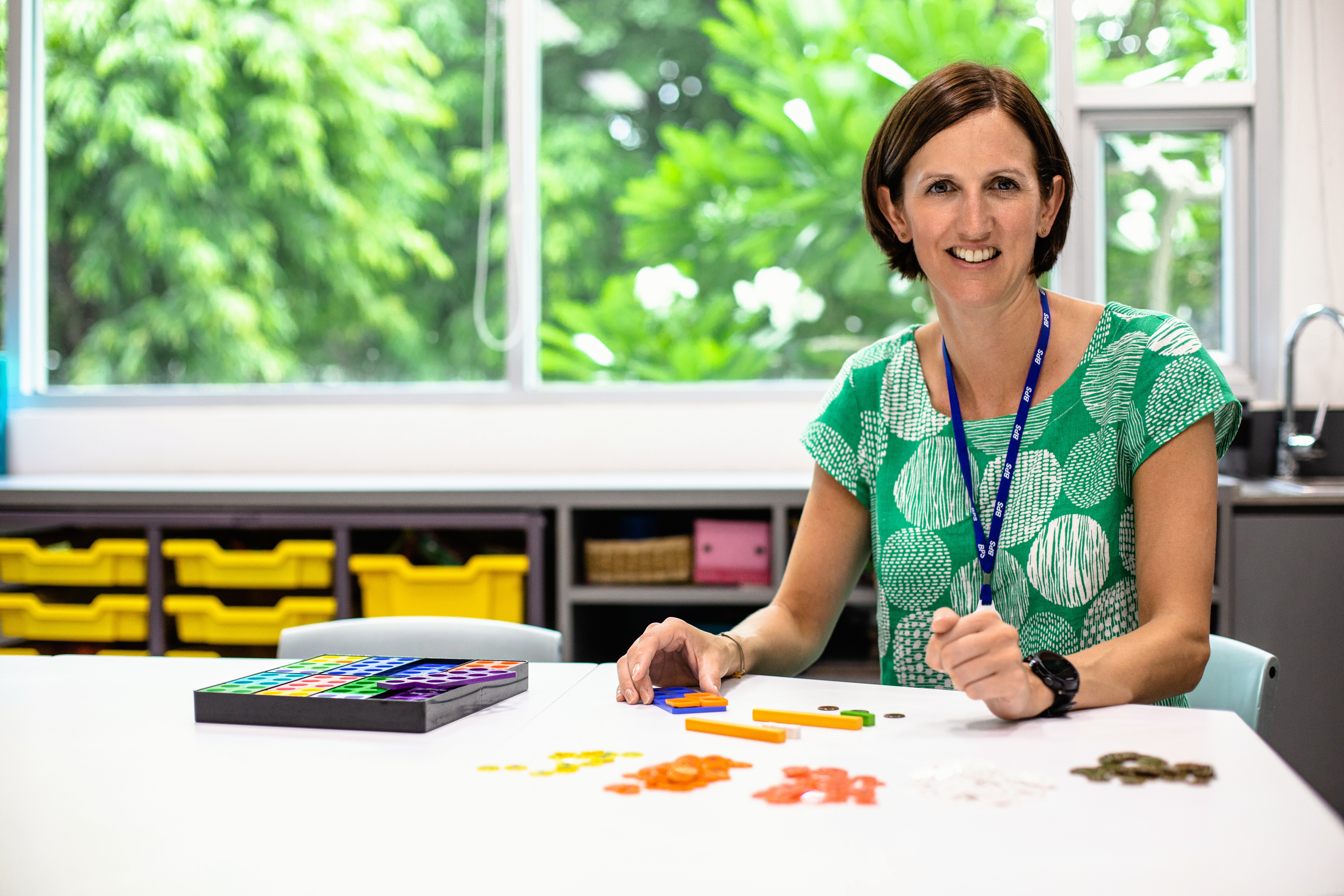 Kirsty is from a small town to the east of Manchester. She completed her undergraduate degree in International Hospitality Business Management at Leeds Metropolitan University and began her professional life in the hospitality industry. She completed her PGCE at Manchester Metropolitan University following a summer spent working as an outdoor activities instructor in the south of France.
"This is my first overseas teaching job, but I lived in the French Alps, skiing and snowboarding, during my 2 gap years prior to starting university.
In my different roles within the hospitality industry, my focus was always about helping people to learn; improving staff knowledge in order to improve service.
I started my teaching career at a large school in south London before moving back to Manchester – my home city – in 2011. All of my teaching roles to date have been in Key Stage 2 and for the last 8 years, I have been in UKS2 and have led many curriculum areas including PSHE, Physical Education and Maths.
Being active is incredibly important to me: I am a marathon runner and a triathlete and spend much of my spare time training. My next marathon will be my seventh and am hoping it will be the 2020 Bangkok Marathon. I've been running since I was eight years old and was inspired a teacher at my primary school. It's a passion and is also good for my general well-being – both mental and physical. I hope to bring my dog (and training partner) – Mabel – to Thailand next year, as soon as I have settled in.
A good teacher is someone who really cares about their students, is enthusiastic and passionate about what they are teaching. My field is so exciting: to be able to work with children across years 5 and 6, sharing my knowledge and experience will be fantastic! I am looking forward to learning from the children's wealth of experience across many different cultures.
I hope to really develop my role as an Extended Learning teacher; Mrs Tanya, Miss Keri and myself have an exciting opportunity to further develop the Extended Learning department. I have the highest expectations: during my lessons, I hope to challenge each child and help them to think in different ways."
Samira Vance – Foundation Stage Class Teacher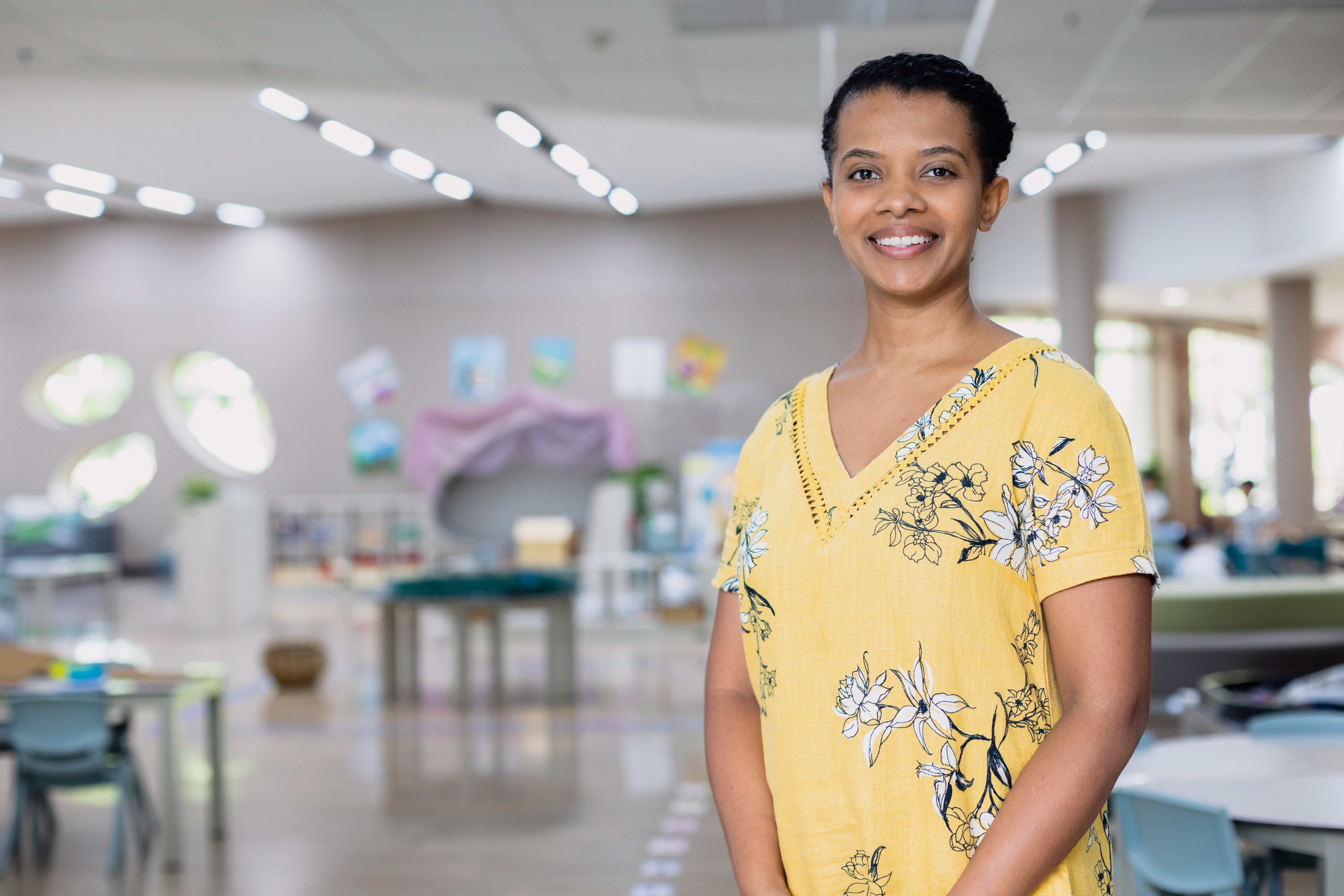 Samira earned her BA in Law and Human Rights from the University of Essex and her PGCE from the University of Brighton, after which she taught in Brighton for a few years before moving to Thailand with her husband who works in the counselling department of another international school.
"I used to play competitive national league basketball in the Under 18 and represented London. I started coaching children at the age of 15 and in university I coached and played for my university team.
I studied law and human rights and I really enjoyed that but after coaching I realised that I loved working with children, so I took a year out and worked as teaching assistant to see if that was what I really wanted to do. I travelled during that year, it was the first time I came to Thailand and really loved it here.
I decided that working with children was what I really wanted to do so I did my PGCE and went into teaching. I first taught in Brighton and then moved to Thailand with my husband, I had my son here last year. I was at home with him for a year and decided it was time to go back to work. Because I have a one year old, so I don't have a lot of outside hobbies, but I do enjoy cooking and doing things outdoors with my family.
I think a good teacher is someone who has a good relationship with their students and a good awareness of what their interests are, where they are at with their learning. Someone who can promote them to be independent learners and nurture them.
I had never been to Bangkok Patana before even though I have been in Bangkok for two years. The campus is really beautiful. I have only been here a few weeks, but I feel like there is a real sense of community amongst the staff and the students, even though it is such a large school.
I think Foundation Stage is really a crucial time in their lives as it is their first experience of schooling. I think it's really important that we get that right – that they enjoy school. They come in so curious and inquisitive and wanting to learn. It is really important that we nurture that and help focus it, help them build those skills because they will be using those skills for the rest of their lives."
Lola Narloch - Year 2 Primary Teacher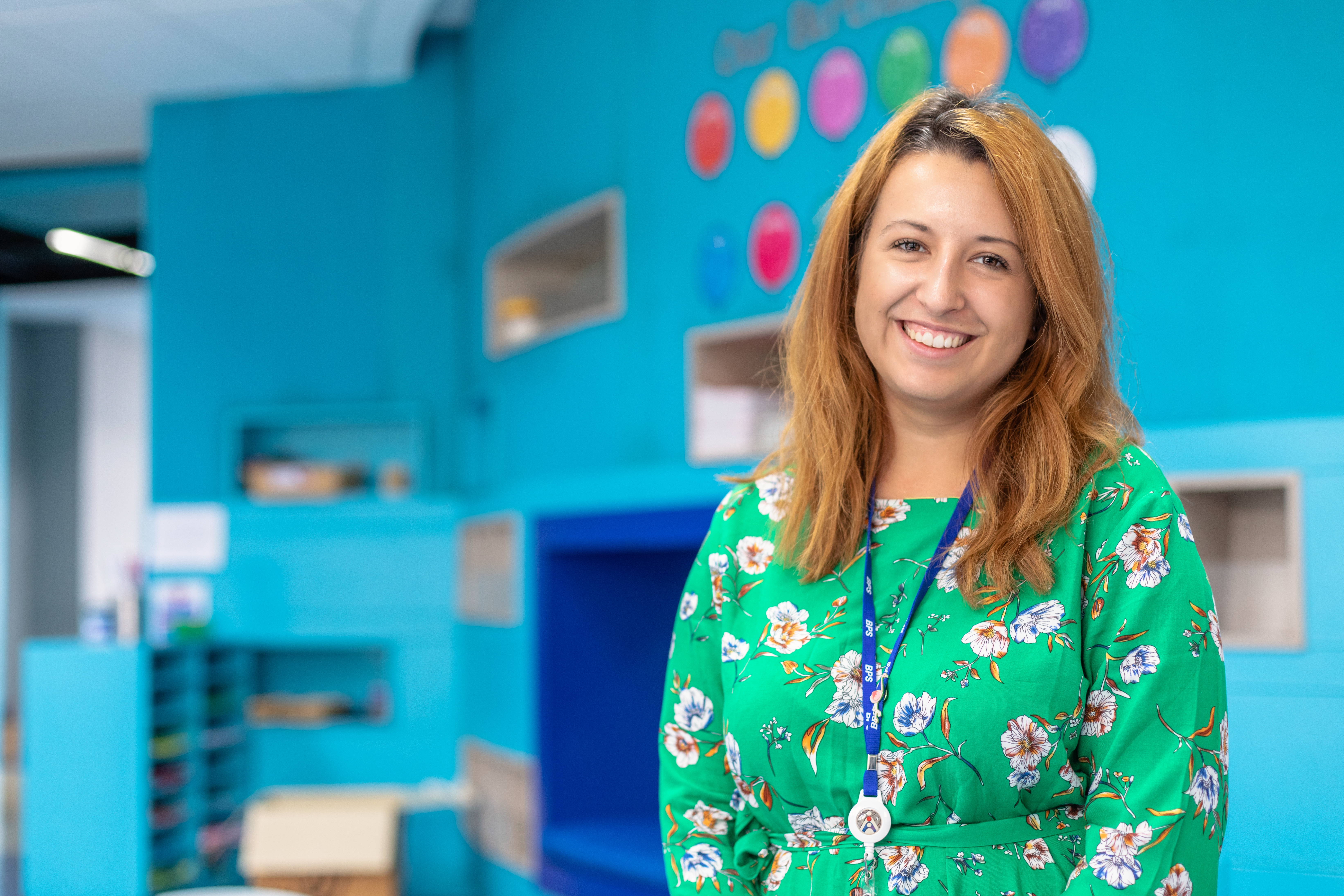 Lola is from Manchester and completed her BA in History and Politics at Liverpool University before working in the House of Lords for a year. She completed her PGCE in Manchester and worked at a small primary school in Greater Manchester before teaching at a British International School in Budapest, Hungary.
"I am a huge Man U fan, I worked in the stadium when I was 16 as a waitress. It is such a great place to be, the atmosphere of it. It really cements the love of the team.
I was a personal assistant for one of the Lords in the House of Lords, it was really interesting. I arranged meetings, do research, prepared for interviews. I even got to meet Hugh Grant! It led me into teaching. I realised I could make more of a difference as a teacher, face to face on a smaller level. I always knew I wanted a job that wasn't just an office job but making a difference in people's lives. I knew I could help them understand something that they thought they could never understand.
I enjoy reading, I've always like reading, my cousins used to call me Matilda!  I really like to travel and see new places. When I lived in Hungary, I really enjoyed traveling around Eastern Europe and the Balkans. I am looking forward to learning more about Asia and traveling here too.  I also enjoy running and take part in 10K races when I can. I am really excited to be here and looking forward to meeting the students and parents and being a part of the Bangkok Patana family. I am really excited to be in Asia and facing a new challenge.
A good teacher is someone who enjoys learning themselves. If you don't enjoy learning you don't motivate your students, I want to instill in the children that they want to come to school and enjoy it. Be passionate about it, be motivated and put 110 percent. I think it is important to know that working with younger children isn't just finger painting and playing, but we set the stage for the skills for later years in school like reading, writing and math. We are the building blocks for later skills like language, arts, geography. We are teaching actual life skills."
Olivia Clutterbuck - Year 5 Primary Class Teacher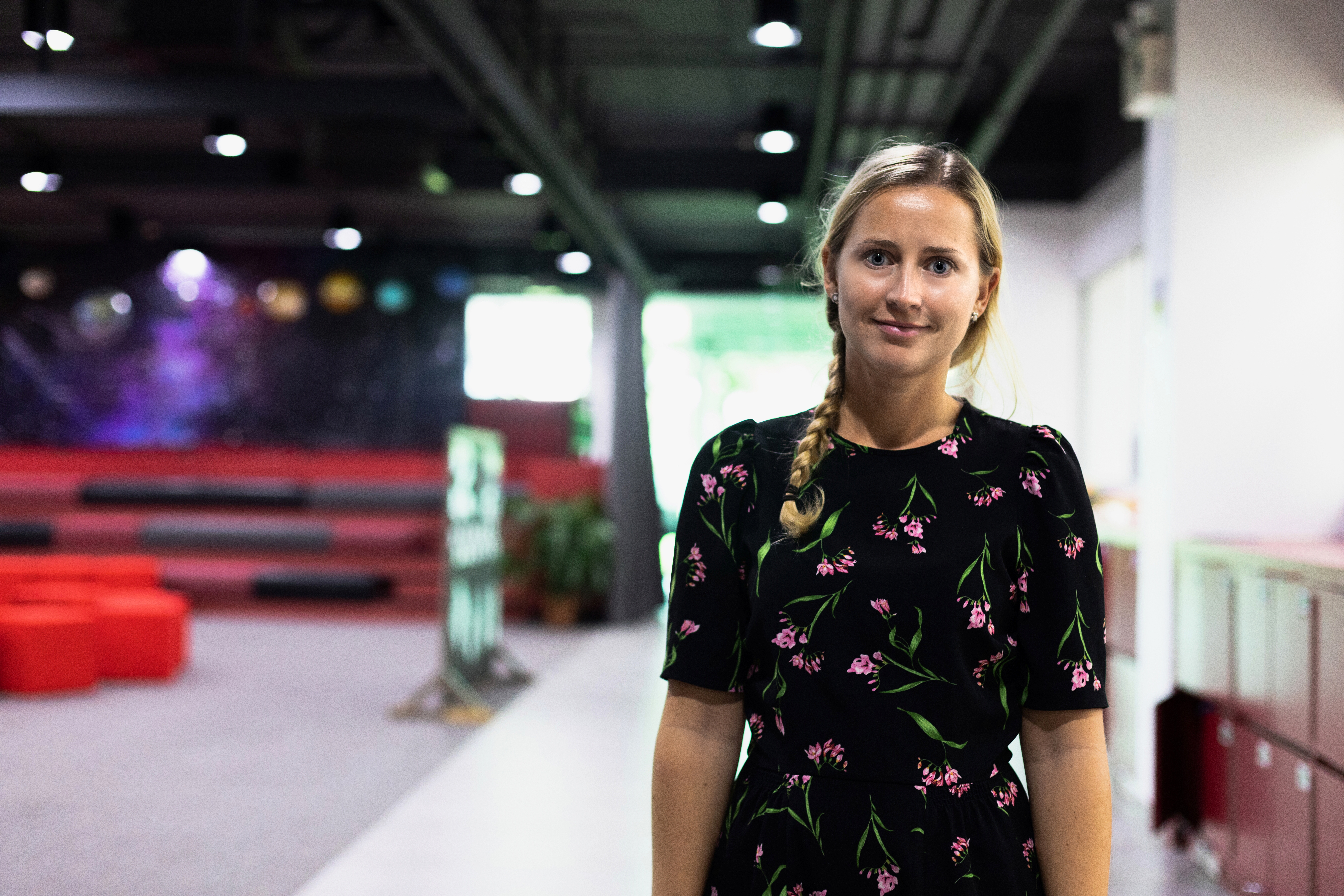 Olivia grew up in rural Norfolk before attending the University of Exeter in Cornwall where she studied English and History. She earned her PGCE from the Institute of Education, London.
"After I graduated, I volunteered in the Marshall Islands for ten months in my first classroom. It was great because of the limited resources really taught me to use my surroundings. I worked as a tutor and an amazing Year 2 teacher inspired me to actually study education and do teaching as a profession. I moved to Panama for two years in my first international placement and then I moved to Egypt for a year and now I am here!
I love just being on the beach and relaxing with a book. I spent most weekends exploring in Panama. This was more difficult in Egypt, but I had an amazing time visiting the historical sites there as well as the desert. I'm looking forward to returning to a tropical climate after a year of no rain! I am being a bit more active here and I am going to try some 5k and 10k runs around the country. I also like diving and visiting museums. I have a dog and hope to bring her here next year, she is a basset hound named Margo.
This campus is incredible, it's so green, it is lovely to see the trees even with all the buildings. It is incredibly modern and the environment has been taken into consideration; like when it rains the walkways are covered. Everyone seems very welcoming and supportive; it seems like a very happy environment to be working in.
I think it is really important to build a really good classroom environment where the kids feel happy safe and secure, that they feel listened to and are respected but also able to debate in a positive way and appreciate that everyone is different. I teach Year 5 and I think this year group is really important as it can be an awkward age because they aren't quite the oldest yet but not young any more. I want to help them build a positive foundation for starting Secondary.
I think on a more social and personal level they feel they can come to school each day and be themselves and share their thoughts and opinions and work more closely but also have the confidence to work independently and overcome challenges. I want them to feel they can ask for help if they need it."
Gemma Thomas - Year 6 Primary Teacher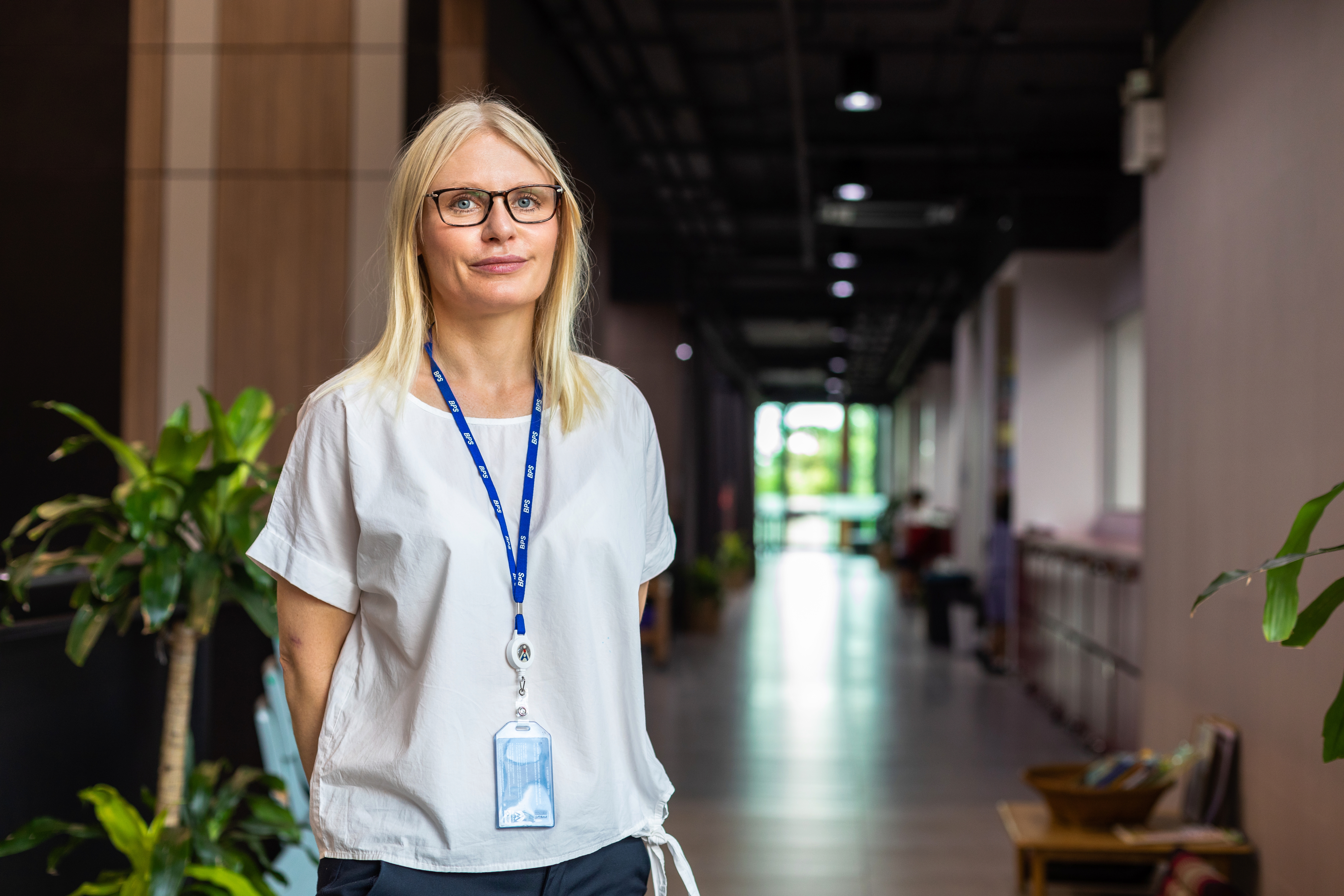 Gemma obtained her degree in English Literature at Staffordshire University in the UK and took her PGCE at St Martin's Teaching College. She has taught in London, Abu Dhabi and most recently at Tanglin Trust School in Singapore.
"After completing my degree, I got a TEFL job in Bangkok which made me fall in love with teaching and Thailand.  2 years later, I returned to the UK to study for a PGCE. After several years of teaching, I decided it was time to return to Thailand. I am looking forward to traveling and exploring the country further and hopefully do some diving along the way."
As a teacher, I am passionate about developing children's confidence, personal growth and well-being. I think a teacher's response to the children is key, – someone who cares about their welfare and happiness.  I am really glad to be teaching Year 6 and preparing them for Secondary school.
Tanya Peake-Hutchins - Primary Extended Learning Teacher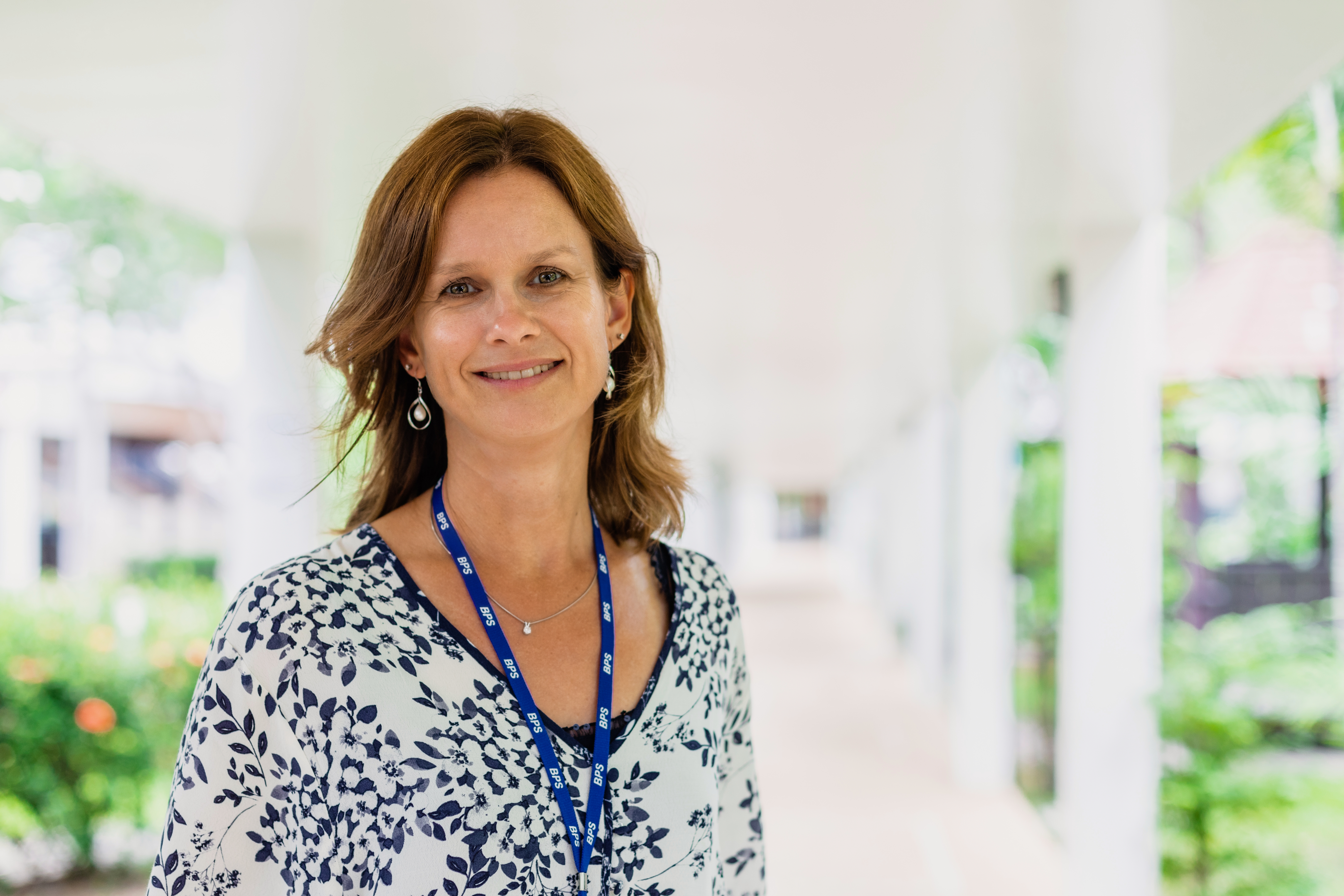 Tanya grew up on a farm in rural Cambridge before studying at Homerton College at the University of Cambridge. She started teaching overseas a year after she graduated living in Egypt and Georgia in the United States.
"I loved living in Egypt for 11 years, spending time in both Alexandria and Cairo. I met my husband, Tom, there and we had our son, Eddie. We moved to an area north of Atlanta, Georgia in 2011 and I have worked for there for the last 4 years as a Kindergarten teacher. We visited Thailand in 2010 and said when the time was right, we knew it was a place we wanted to be.
I like to do yoga, sports, and visit historical sites and go out and about. We love to travel, in the last year we've been to the Grand Canyon, Canada, we like to travel and experience new places and meet new people. We are also excited to support Eddie, who is starting Year 7, in his tennis and football accomplishments.
When I was at secondary school I volunteered in a local primary school. I just knew it was something I wanted to do. I wanted to be a facilitator for children's learning. I love the fact that every day is different and that the children have such a thirst for knowledge, they always want to know more and do things.
I think it is important to be open to new ideas and not have a fixed outlook on life and how you want it to go  – because even in the classroom things change and you have to be able to adapt to those changes. I want each child to know that they are important to me, I am very caring. They become "your kids" under the vast umbrella of in locus parentis over the year. They feel needed and fulfill their role to be the best they can be.
It's amazing, I have never felt so welcomed in an environment before, the smallest details have not been overlooked. We've been introduced to things as and when we need them and no information overload, that has been so helpful. Everyone has been ready and willing to answer questions. The school environment is an amazing place, I am so glad my child gets to experience it. The heart of Bangkok Patana is the children and the resources that are put in it. I did do a lot of research before I applied, and I knew it was where I wanted to be, so it has not disappointed me at all.
I want to help children reach their true potential by developing learning experiences that allow them to be critical thinkers and creative citizens in their approach to problem-solving.
My goal is to go on a learning journey with my children to help them and myself become the best that we can be academically, socially and emotionally."
Steve Liu - Primary EAL Teacher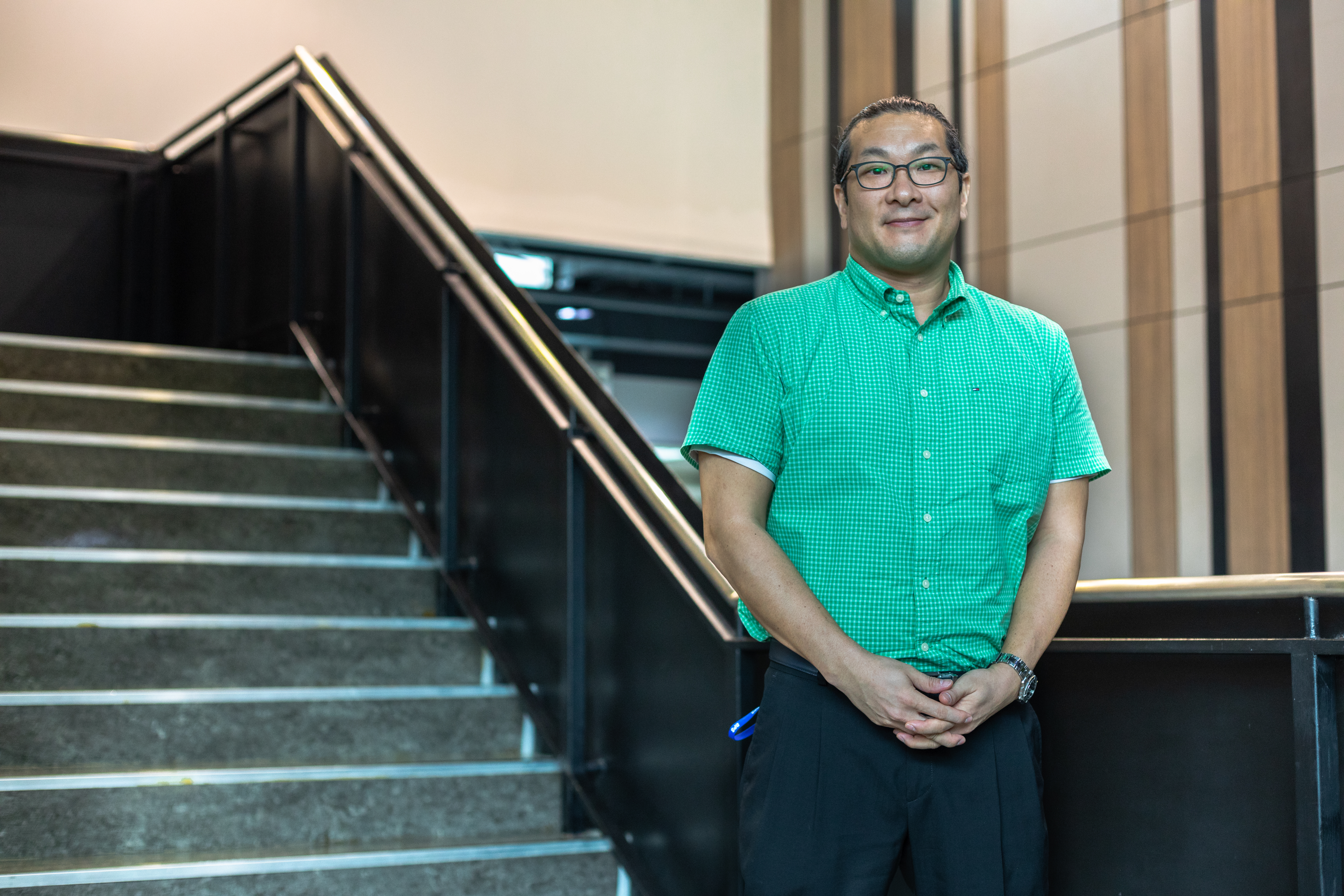 Steve grew up in Niagara Falls in Canada and obtained his BA from Brock University his Master's of Teaching at Griffith University in Australia.
"I started my international teaching career in South Korea where I met my wife. She really likes it here; she loves the food! My love of travel, exploring new cultures and being adventurous brought my wife Mi Hwa (Jenny) and I to Singapore. Moving to Thailand was something we always wanted to do so we jumped at the opportunity to be a part of Bangkok Patana School.
I play tennis, golf, and swimming. Love to travel, I've been to 23 countries, not too many but we hope to tackle part of Europe next summer. It's so much more convenient being closer to other places and great for my wife to be able to go home more easily.
I knew that teaching was something I would never get tired of.  I just love helping people. I tutored in high school and really enjoyed it.  When I see that light in people's eyes that something has clicked and then I see that I helped someone. The more you give; the more you get. I started teaching in high school and then moved to Primary, I feel like I make more of a difference at the Primary level. Now with English as an Additional Language, I like helping students with their struggle with language – I went through that in South Korea, so I know how it feels. I know how to help them connect those dots in their heads.
It is really important to care about the student and what you do, knowing and being an expert in what you teach, and being incredibly prepared for absolutely everything. I think a good EAL teacher needs patience because everyone learns differently at a different rate. It is really key to understand that sometimes students stay still and need to stew a little before moving forward.
I have 22 students on my roster, and I want to get 22 in the mainstream. I want each and every student to grow and see that they can be happy speaking in another language. I don't think they know how happy they can be speaking English. They will definitely make more friends. That is something they don't expect, and I think they will see it. I think that learning to be happy to speak in another language will cause them to have an infectious attitude that propels them forward in all that they do and learn."
Charlotte Hamilton - Secondary Careers and University Counsellor
Charlotte graduated from Kingston University with a BA in Politics with Sociology and earned an MA in Chinese Studies from the University of London School of Oriental and African Studies. She earned her diploma in Therapeutic Counselling from CPCAB (Counselling and Psychotherapy Central Awarding Body) is the only awarding body in Europe to specialise in counselling.
"I am from a town not far from Heathrow, I enjoy reading. Film and travelling. My favourite author is Haruki Murakami and I really like George Orwell as well as dystopian and crime fiction.
Early in my career I taught English in Hong Kong and then China. This was followed by working in the not-for-profit sector. I moved into Higher Education and then as an international recruitment manager and undergraduate admissions.
I've worked in university admissions in the UK for about 11 years, almost seven of which were at the University of Oxford working in Undergraduate Admissions and Outreach. During my time in the university sector I worked across East and South East Asia as well as in widening access in the UK. I've been really interested in crossing sides of the desk for some time now and having recently qualified as a psychotherapist, it felt like a good time to make that transition. I really wanted a job where I had more interaction with students and having lived and worked in China and Hong Kong in the past, I am familiar with Asia. I had visited Bangkok Patana School several times in the past to present on university admissions and run interview workshops, so I was familiar with the school. I really liked the ethos and the feel of the school and the people, who seemed down to earth and friendly. I also love that although it's a huge school, there is so much greenery and it's a pretty campus.
My main role is in university and careers counselling, but I am working in emotional and social counselling too.  From the university counselling perspective, I am looking forward to helping prepare students for the academic and career challenges that lie ahead for them, as well as motivating them to learn and explore the opportunities available to them and encouraging them to make decisions that are right for them. On the social and emotional side of things I believe in encouraging openness around mental health, showing compassion and providing a safe and confidential environment where people affected by mental health issues are able to open up and discuss their issues."
Karel De Cock - Secondary Careers and University Counsellor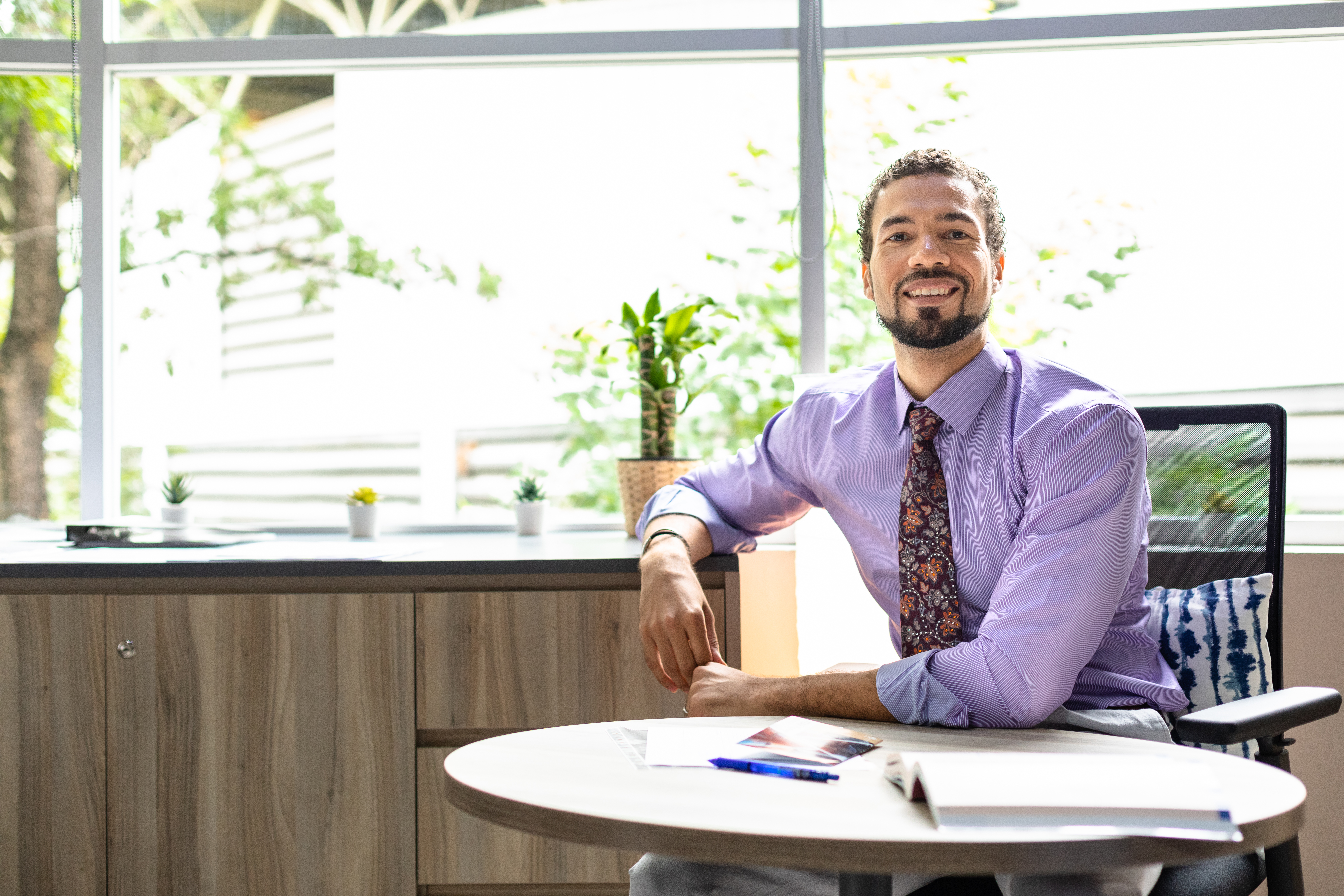 Karel was born in New York before moving to Taiwan at the age of nine and then Belgium for fours before returning to the US to live in Maryland where he graduated from high school. He received his undergraduate degree in Organizational Psychology from Vesalius College (Boston University), and his Master's in Educational Counselling from Bristol University. He has spent 15 years counselling families in Singapore, Shanghai, Chiang Mai and Brussels.
"I am here with my wife Naambo and two boys, Dominic and Esaiah who will both be going to school here. My family and I are not new to life in Asia or being expats.  On and off, I've lived in Asia for 18 years. Our children were born in Shanghai, lived in Singapore and we now call Bangkok home.  Relocating, speaking different languages and being immersed in different cultures is the norm for us.  We value family, community and are blessed with the ability to make any location feel like home.
I enjoy being active; playing basketball, football, weight training and a variety of other sports. I perform stand-up comedy as well as improv comedy and hope to participate in the Bangkok scene.  I write children's stories and hope to publish this year. My wife is an amazing drawer and, hopefully, she will be able to do the artwork for the book. I believe it's important for everyone to have a creative outlet and step outside their comfort zone.  I have been teaching myself how to DJ and have learned a great deal about myself through that process. So, I like to mix things up!
I had never been here before but one thing I like is that even though it is a big campus, the dedicated spaces and buildings make it feel manageable.   I love that there is so much open space, greenery and natural light. It is a very open campus, you can see things happening in different buildings and classrooms around the school, creating a collaborative and inclusive culture. You may not be involved in every activity but are aware of what is going on.
I have always wanted to work in international schools.  As a third culture kid, I want to speak to children about that transition and adjustment.  To use my life lessons as examples of how to handle the issues and questions that arise from relocating.   I apply my personal relocation and international experience when counselling students to help locate institutions that are the best fit for them."
Paul Yap - Secondary Careers and University Counsellor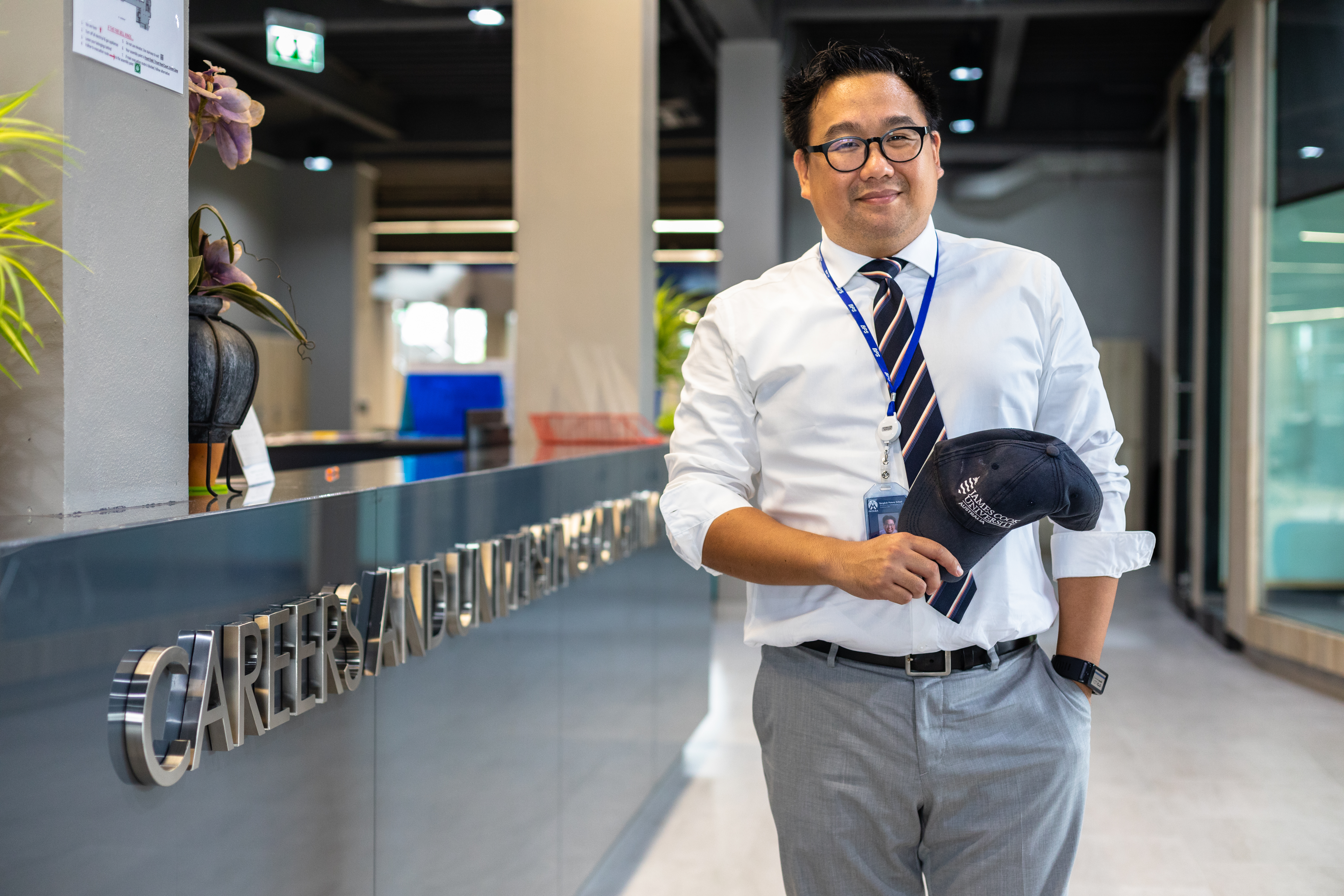 Paul earned his BSc in Psychology from Ateneo de Manila University and a Master's in Counselling from De La Salle University in the Philippines. He is a Registered Guidance Counsellor and has been in education for the last 16 years, working in an international school setting for the last 12 years. He is here with his wife and two children who will be attending Bangkok Patana School in Year 6 and Year 8.
"I am from one of the smaller cities, when I grew it was rice paddies and salt farms. It changed later, as metro Manila grew so fast it got too noisy for me. I like trees and quiet and listening to birds. I went to high school in Florida in the US and hung out with the many immigrants in Florida – Central Americans and people from the Caribbean islands. I am a reservist in the Philippine Air Force. One of our first purchases on arriving here was a rice cooker! I really enjoy swimming but also practice Filipino martial arts; Arnis or Kali stick fighting, the national sport of the Philippines. I like to read and I write poetry. I love comic books and gaming. I explain to parents that I still do all those things today. I know what it is like to balance being an athlete and an academic.
I've always known I wanted to work with kids although in high school there was a strong recommendation to be a doctor, but I knew I wanted to be a psychologist. While I was doing my pre-med I knew that I wanted to change and to work with kids. I wanted to help kids help themselves. I've been a counsellor for 13 years, and I love working with kids who are so dynamic. There is never a dull moment.
I first visited Patana for a swim FOBISIA, I walked in and that grand entranceway blew me away. Seeing the work the kids did here was just amazing, I knew in my heart that if at any point they had an opening I wouldn't hesitate to apply. This is an amazing place, the things they have done continue to amaze me at what people can do.
I plan to get to know the students who I will be working with but more importantly helping them to understand the potentials and the pathways for the next five years. Helping them to understand that they can change, give them the tools to change in school and in university. Many students don't understand how much things can change. I want to help give them the confidence and the tools to make those changes."
Collette Blackman - Secondary English Teacher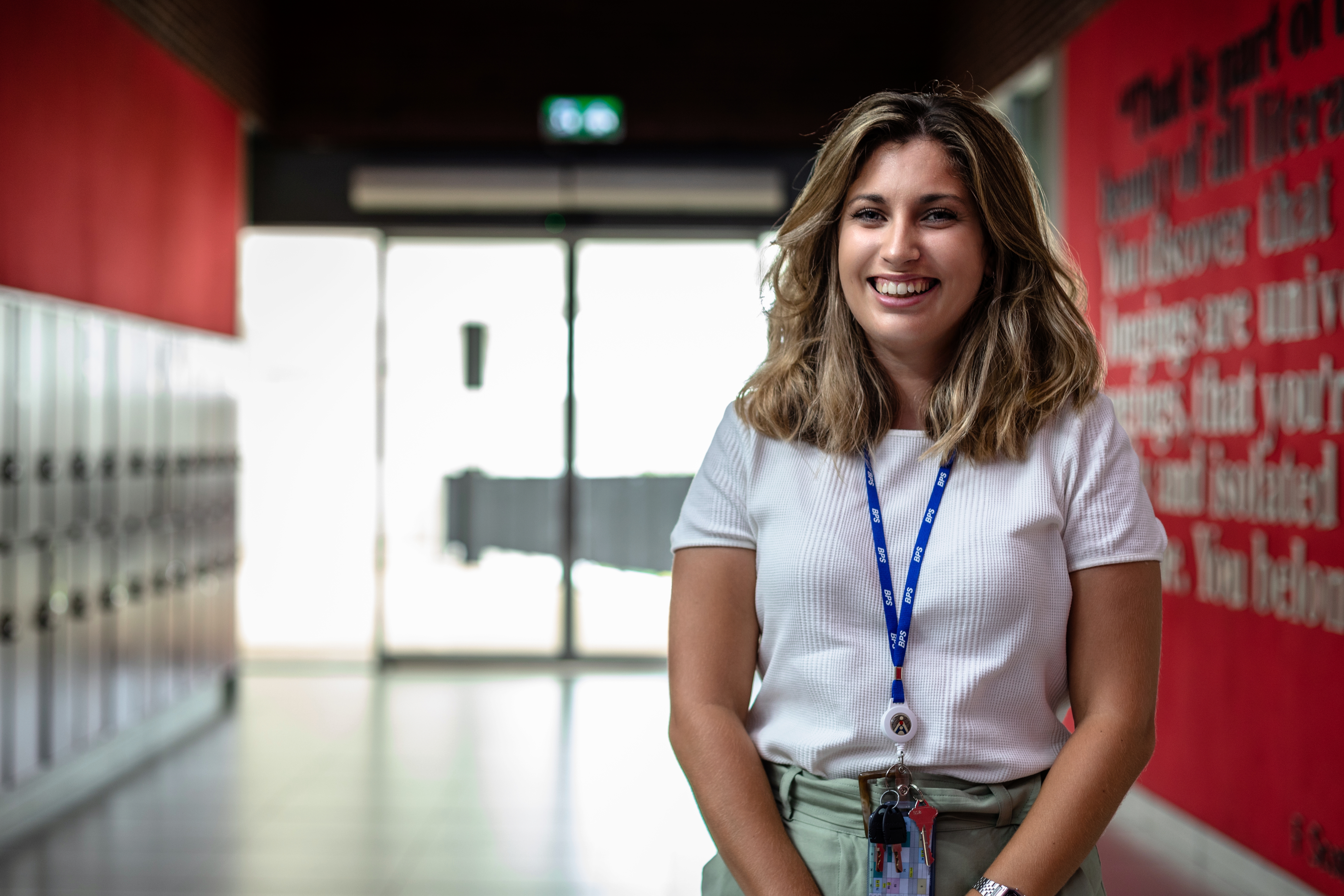 Colette earned her BSc. in Anthropology from the University of Southampton, and her PGCE from the University of Exeter. She is currently working on her Master's from University College London in Education and International Development.
"I grew up in a very small town near Brighton and went to university in London. I really enjoyed Sociology, I knew I wanted to learn more about cultures. I am working on my Master's in International Development and my dissertation is due soon, I am looking forward to freedom in the evenings! I don't have a lot of free time, but I recently started cycling with my partner who is here working at another international school. We both travelled and we found that we liked Bangkok and it was where we wanted to go.
I started teaching with Teach First, which puts teachers in schools in more underprivileged areas. I wanted to work in a school like that because of my background in Social Sciences. This is my first international school, the facilities alone blew me away, the opportunities for the kids are really obvious. The staff are all friendly, approaching and welcoming. I've only been here a short time and I already feel comfortable. The communication has been so amazing.
A good teacher is someone who is really passionate about their subject and their students and shows enthusiasm in their teaching. I've always enjoyed reading and writing and will work hard to pass that love along to my students. I think it is important to be approachable and creative.
Students tend not to enjoy English as much as they can, I think because it's a core subject. Kids don't read as much as they used to and don't seem to enjoy it as much – I want to grow that love of reading and writing and show kids how important it is and to enjoy it. The Kite Runner is my favourite book because of my background in conflict and culture, it's the only book I have re-read, I don't normally re-read books but this one really speaks to me. I want the kids to have that same experience and have the same love of reading.
I am looking forward to building really strong relationships with the kids, to get to know the school and the local community. I am looking forward to getting involved in different activities, becoming a part of the school and the Bangkok Patana family."
Daniel Mitcheson - Secondary Geography Teacher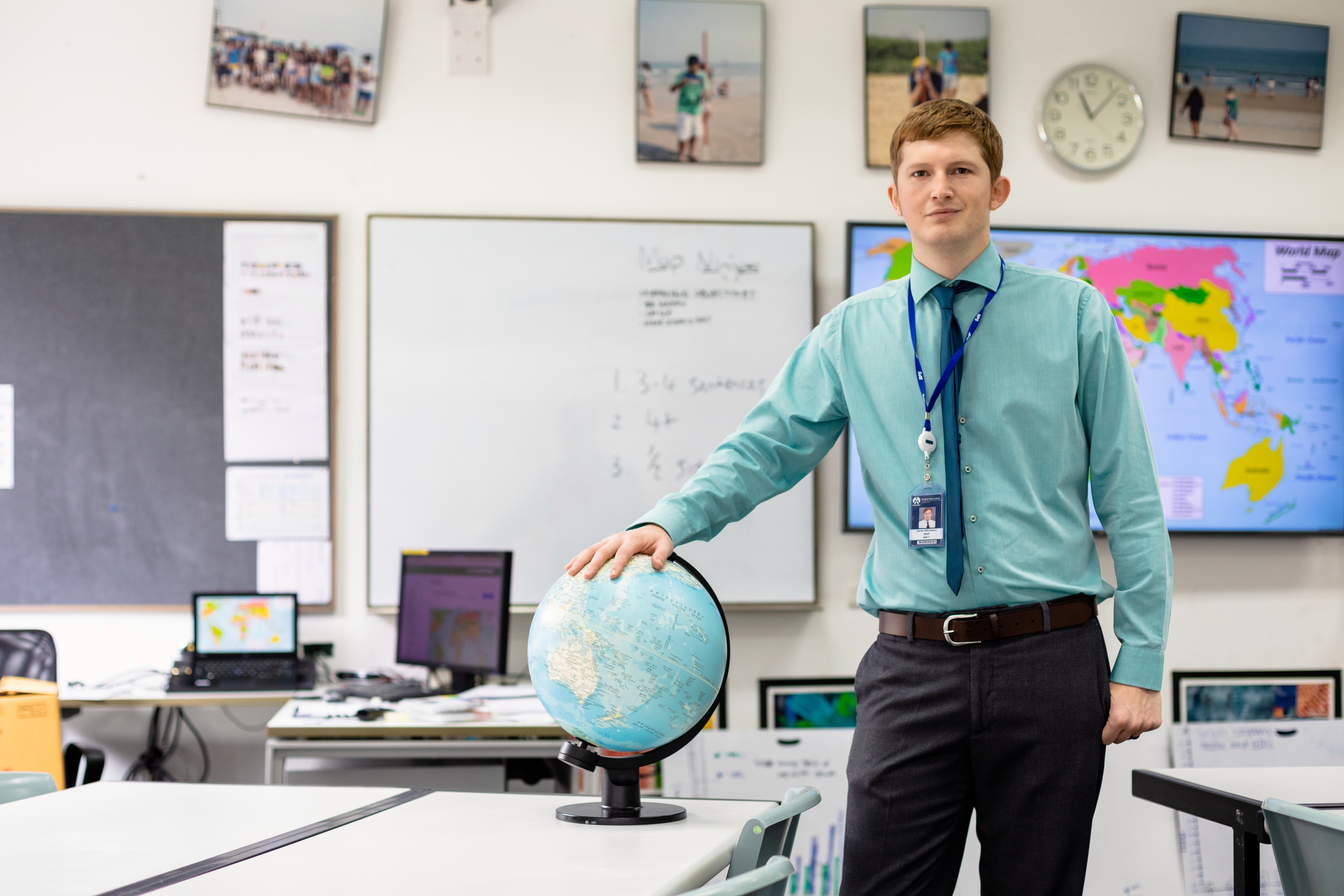 Daniel earned his BA in Human Geography from Liverpool John Moores University and trained at Edge Hill University where he gained his PGCE after returning from living in China for five years. After completing his PGCE he worked in Worcester, UK teaching Geography in the sixth form.
"My wife was very excited to be moving to Bangkok with me from the UK. She is from Sichuan and she loves Thai food as it is spicy and has rice! When I moved to China I was traveling initially and started teaching English but found I loved it, so I went back to the UK and got all the relevant qualifications. I still love doing it and I think if you can find something you love doing then it's a win – win.
To me, a teacher is supposed to be a person who students can learn from and who can expand the world around them. Students need to be confident that they can come to you and learn – that you love it and are passionate about the subject and that rubs off on them. If you can spark that same feeling in your students, then they will take some of that with them.
Bangkok Patana School definitely seems prepared ; they've given me a role that fills my skill set, they know what I will be doing and how it works for me and that's been a very good fit.
The administration side really takes it beyond from being just a school to doing everything. Everything is inhouse and if you have a major problem you can just stroll across to the right building and get help.
In today's world geography is becoming more and more important because we are all global citizens. It's not just important to know about where you are from but about other people and the environment. Geography is a subject where we explore that and learn about it, it's the world outside the window. If you can understand more about other places you can see it, it's not just something in a classroom.
For me, I love geography and I want to make sure the students at Bangkok Patana love it too. It is a cool subject, and I want the students to be able to come to my lessons and get the enjoyment from the subject that I do. I hope my new students will share my passion for the subject."
Fiona Milligan - Secondary Social and Emotional Counsellor; Support Tutor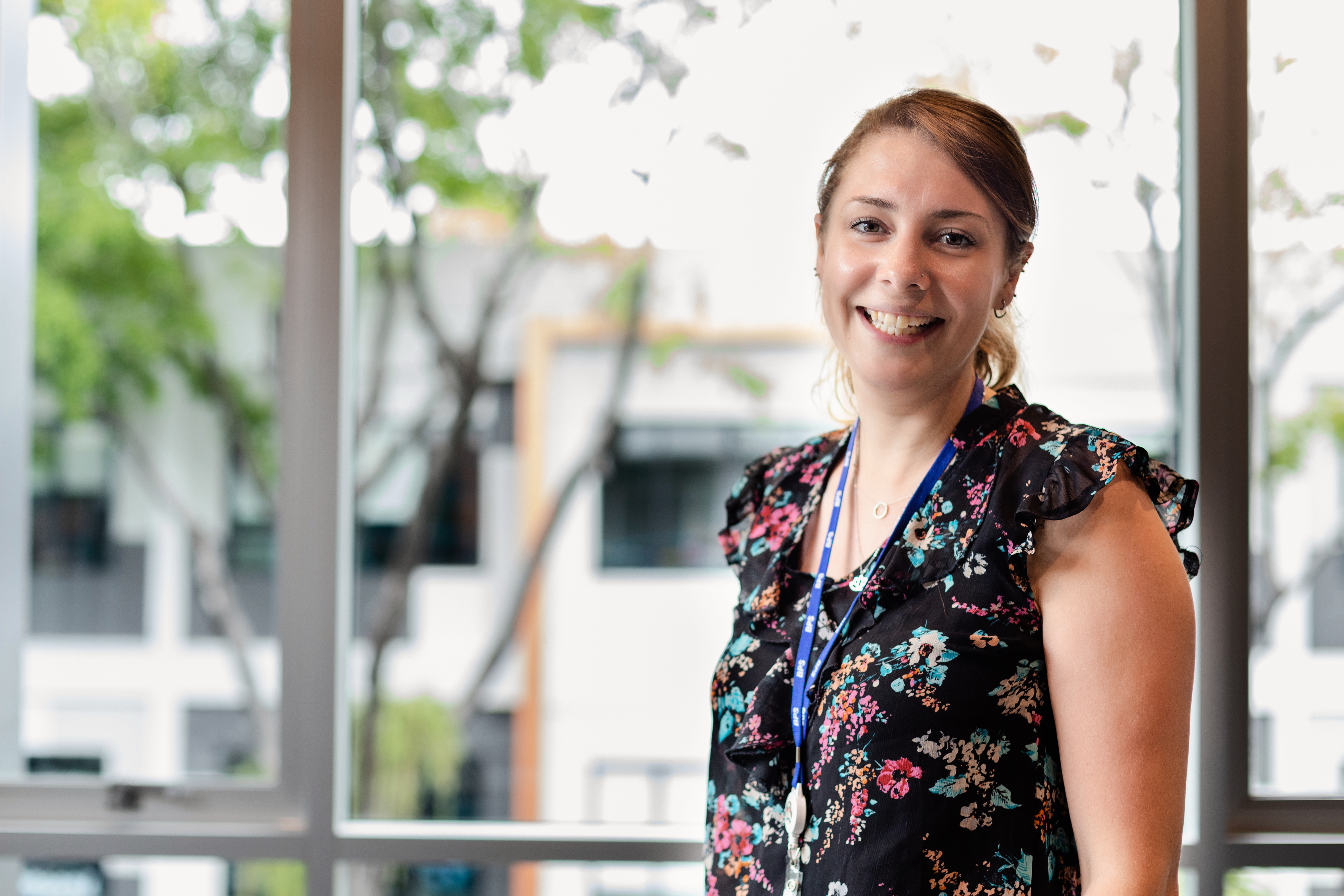 Fiona is from Manchester, UK and was educated in Sheffield where she obtained her BSc, and then Nottingham for her Master's in Social Work. She moved to London to work in youth justice.
When I was studying for my Masters, I had the opportunity to train in Hong Kong and that is where the idea of working overseas started.  I worked in London for seven years, but I knew if I didn't go overseas, I won't ever do it. I worked in South Korea for two years as the Head of the Individual Needs department.
I loved being in Asia and in Korea – the nature on Jeju was incredible, but I missed the city, it was a really rural area. I had heard about Bangkok Patana School and knew of the reputation, I really wanted to return to school counselling. I have friends in Bangkok and know it pretty well.  I wanted to work in a school that was more diverse and so I am here and very excited to be here. I visited the campus in January and thought the facilities were incredible. Now that I've been here a little while I am still in awe, I still keep smiling to myself.
I have just trained as a yoga teacher in India, I love travelling, I am always exploring new places. I love the beach and hiking. I spend a lot of time reading. My passion is research in psychology. I ran the London marathon in 2017. I am really excited to get involved in everything going on here.
I love working with teachers, it is rare you find people who are so passionate, interested and interesting. Every day they are inspiring students and what is more inspiring than that?
One of my passions is to remove the stigma of talking about feelings and how you are feeling and your state of mind. My mission is to make sure that when people are feeling emotionally not great then they come to a counsellor in the same way they would see a doctor when they feel physically unhealthy. I want it to be as normal as that. I don't want there to be a stigma around counselling and mental health anymore – that children and adults feel they have a place of safety. If they don't feel 100 percent in themselves then they aren't going to learn in the most successful way. I want everyone to feel safe emotionally in the classroom, able to take risks and enjoy education."
Hatice Torun - Secondary World Languages Teacher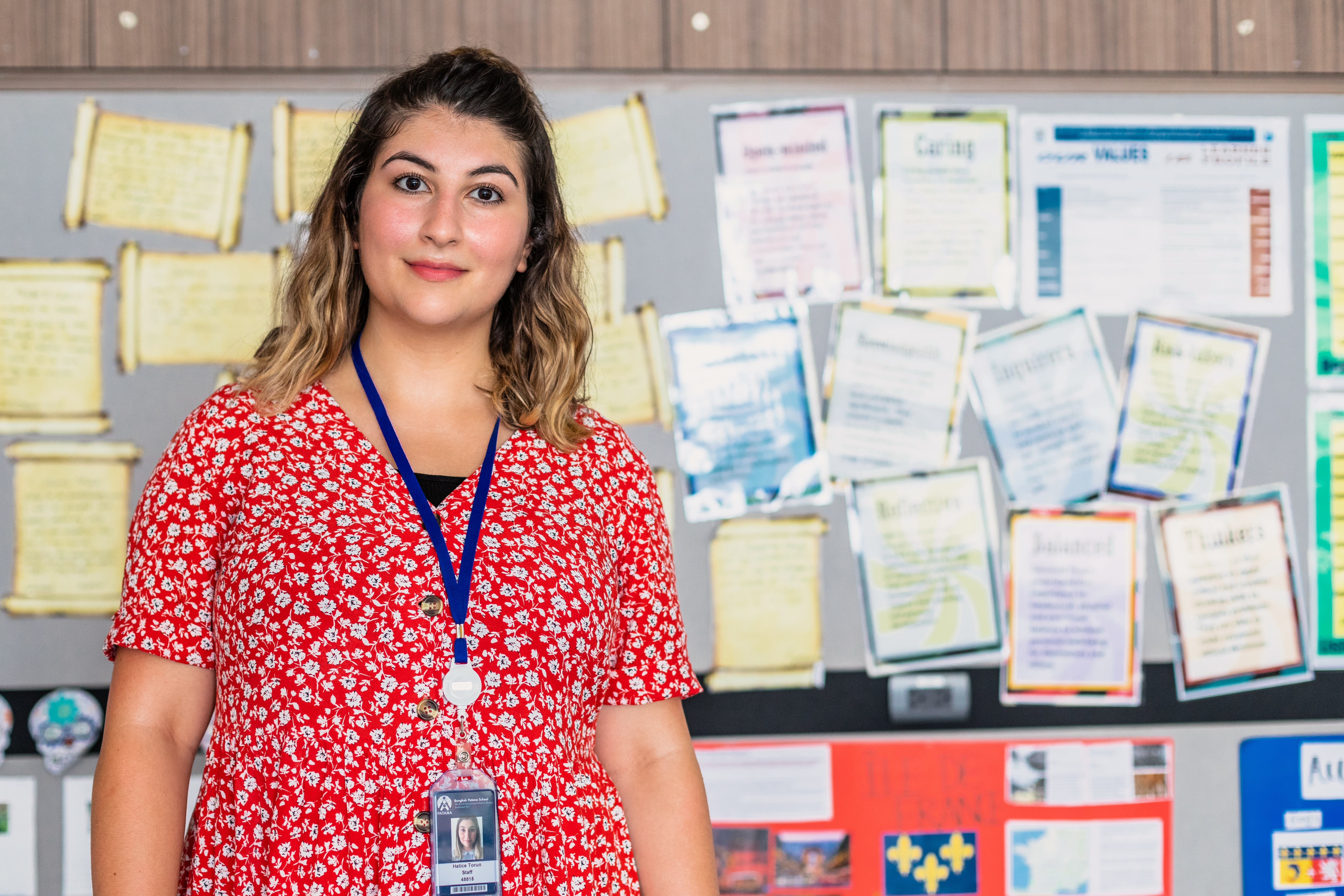 Hatice (pronounced Ha-tee-ja) was born in Istanbul but grew up in Manchester, doing her undergraduate degree in French and German at the University of Manchester as well as her PGCE. She studied abroad in Lyon and Heidelberg for a year during university. She taught at an independent boys' school before taking her first overseas position at Bangkok Patana School.
"Everyone sees Manchester and thinks, 'Football!' However, I am not a football fan – I know the city goes crazy when there are Man U – Man City games – me, I just want to go home. I am a reader, it is my favourite thing to do. I like cooking, I am excited to try some Thai recipes, I love traveling and really want to get to know Bangkok. I do like to on walks or hikes, get outdoors – not sure how that is going to work in this weather, I am not used to the heat.
I've always known, my whole life that I wanted to be a teacher. As a kid I used make my siblings play class with me and I would set them homework. I even wrote my sister a report when I was eight. It felt like that is what I was supposed to do. My sister told me when we were little, she asked me to teach her how to ride a bike and I insisted on giving her theory lessons first. When I learned that I liked to use my languages and learn new ones, that is when I knew what I wanted to teach.
I think it is really important that a teacher really wants to be a teacher- it isn't the kind of thing you have to do, but you do it because you really love it. It is important that a teacher cares about their subject and enjoys spending time with kids. I can wake up and have the worst day but as soon as I walk into a classroom, they just light it up, they make it easier to be a good teacher when they want to be there too.
I was amazed at how enthusiastic and approachable everyone at Bangkok Patana is; it is wonderful to have a Head who is so down to earth. Leading a staff of so many people and make such an effort to get to know everyone. The induction process was great, I felt really looked after, it feels like a family and that they take care of you, everyone is really friendly and welcoming.
Languages are important – it isn't about basic communication- it's so much more than that. I want to learn Thai because I love being able to communicate, there is a personality within a language, you develop a personality that goes with that language. Even if they can speak English it is not worth as much as being able to speak their language. When people get older they always say 'I wish I had bothered to make an effort when I was in school.' I think it is important that students learn how to communicate in languages other than their own."
Jon Yau - Secondary Mathematics Teacher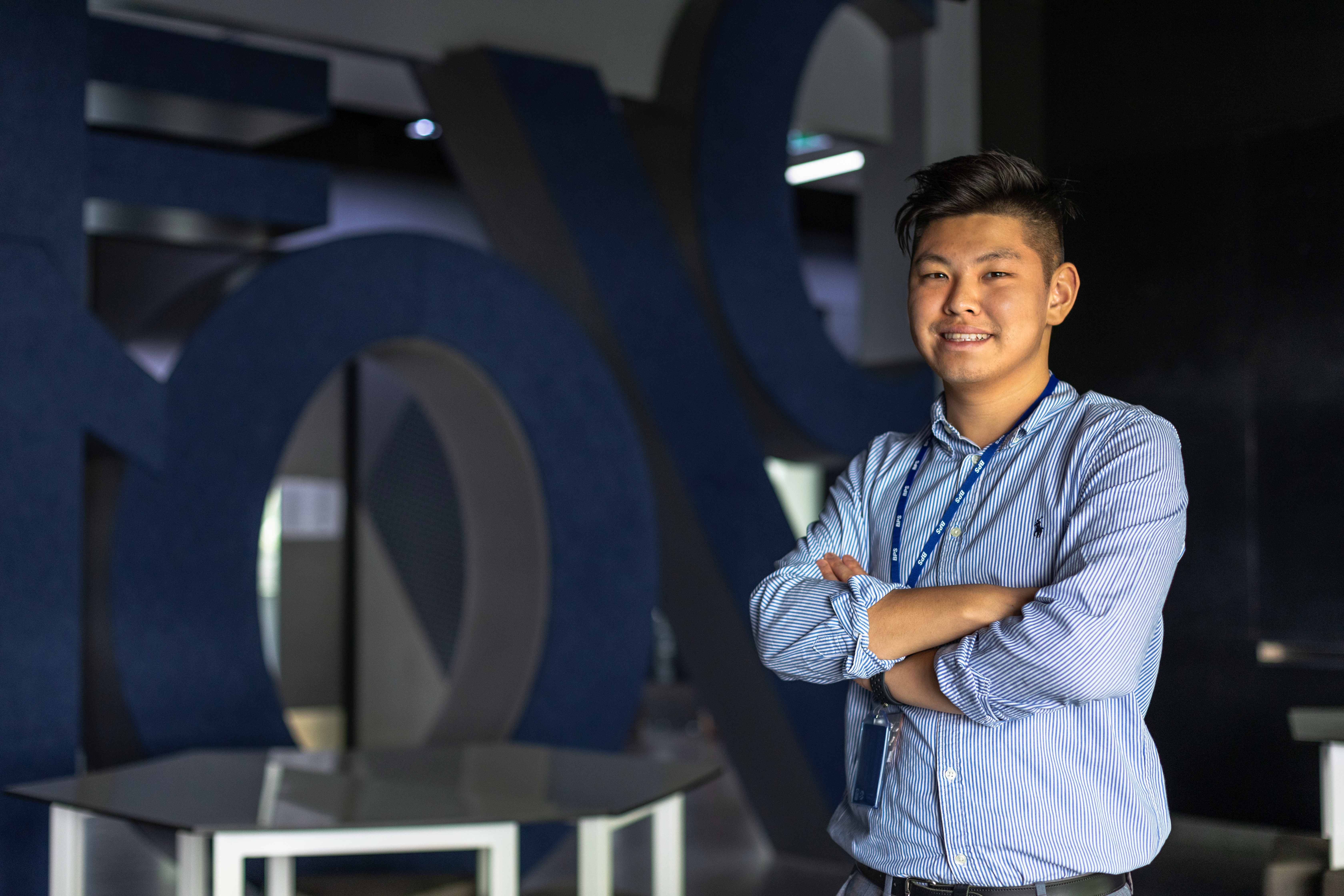 Jon is from South London and obtained his Degree in Mathematics from Kingston University in South West London. He previously worked at a school in Surrey.
"I am interested in videography and photography; street photography and architecture. I like going to festivals too, I saw the Banksy Disneyland theme park. Photography, for me, is a really personal thing, I do have a website but its mainly just for myself. I really like watching Premier League for darts, which is kind of an unusual hobby. My favourite movie is Space Jam. If I wasn't a mathematics teacher, I would be an actuary or graphic designer. My favourite meal is a roast dinner!
After I did my training I found I really enjoyed mathematics, I like teaching Secondary students, you can see they have a good sense of maturity. But I also like the younger kids because they are eager and you can really make a difference in their lives. I went to an old fashioned grammar school in London and teaching there was old fashioned.
But I learned, everyone is good maths, everything in the world is maths. It is important to find something to make it relevant to the students, to see how it relates to their own lives. It is important to be consistent, to be fair and to be funny.
My goal is to just keep on doing what I am good at. I want my students to enjoy it. I know there can be a love/hate relationship with mathematics but if you can get them to enjoy it then you have them part way there to loving."
Matthew Conroy - Secondary Social and Emotional Counsellor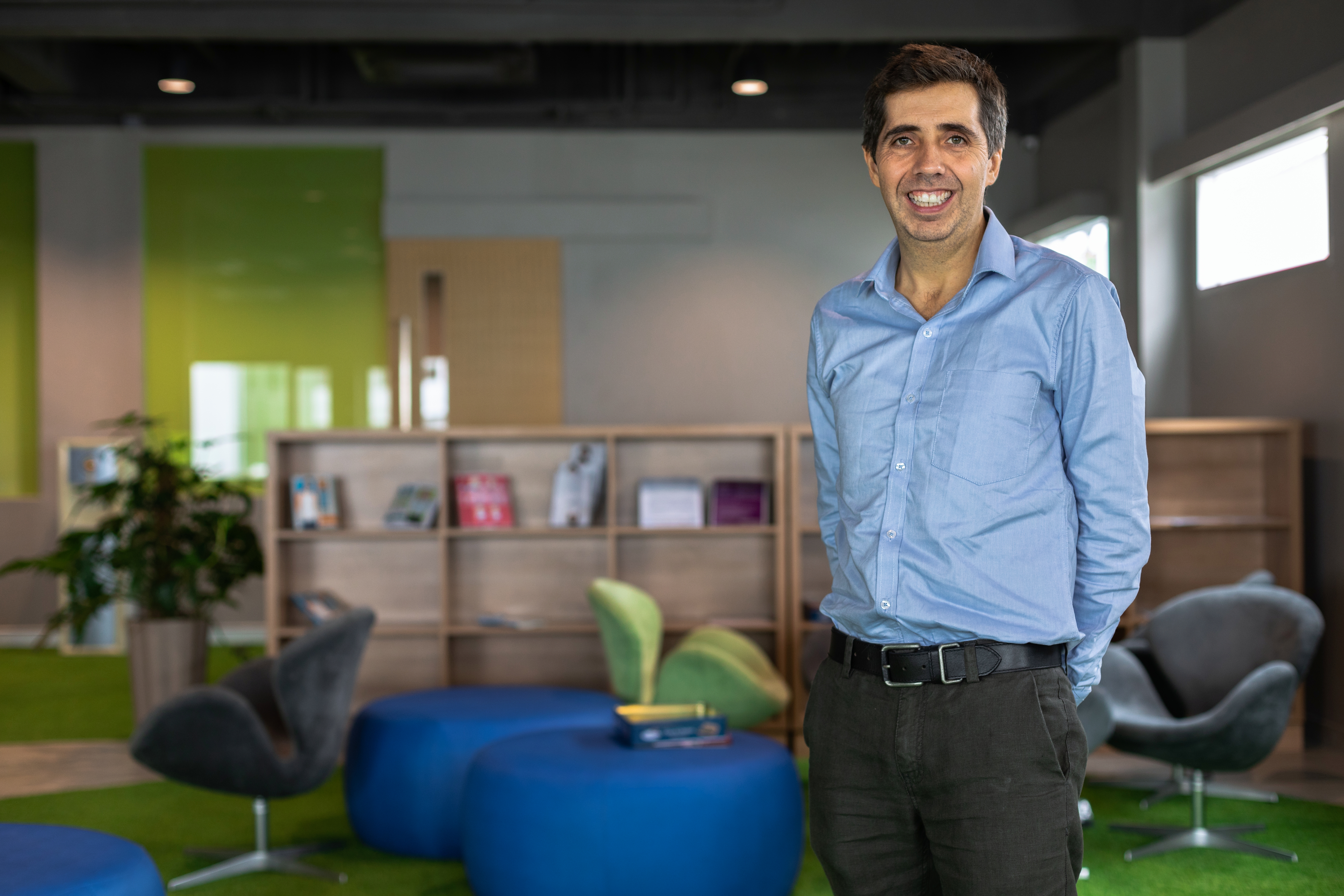 Matt earned his degree in Geography from Sheffield Hallam University and worked in Sri Lanka for four years teaching Geography. He returned to the UK to re-train as a Social Worker obtaining a Master's in Social Work from the University of East Anglia. He moved to Thailand last year when his wife took up a role at Bangkok Patana School.
"I did a geography degree and trained to be a teacher, worked abroad for 3 years in Sri Lanka where I met Lorna. I came back and retrained in social work and have been there ever since. It opens the doors for counselling. I worked pre-dominantly with children and their families liaising regularly with schools regarding child welfare and safeguarding. I have been fortunate to obtain additional family therapy training through Birkbeck University (London) as a part of my professional development.
I have two children in Year 4 and Year 6 and of course Lorna who is the assistant principal. Over the last year I have helped to settle our own children in Bangkok Patana School and adjust to life in a new country – it has been a great adventure for all of us. I do quite a lot of running, I just ran the half marathon the other day. Cycling, swimming and going to the gym. That only turned around in my 40s, I decided I needed to be a bit more active. I support Blackburn even though it is getting harder to watch as they've been relegated.
Coming from being a parent first, your initial instinct is to be wowed by the facilities and what the school has to offer but the transition into teaching allows you to scratch beneath the surface where you see the effort and commitment by the staff. I've been amazed by how much time and effort has been put into everything. They really seem to think things through and review them annually. It's a lot of really good, productive work going on behind the scenes that you never knew existed.
I would see counselling as part of the social work role that I was doing, speaking to kids one to one, going over their issues and coming up with an appropriate and sensible solution. What I would like to do with the service is to be a bit more holistic but also think in terms of ECAs, in terms of parents and what different teachers can do to support the child. When I first trained in the UK they had a home school liaison who could support the students but also go out and work with the parents as well. It stops a lot of issues escalating. It makes it better to address things early, the school can pick up the issues and putting some strategies.
We are looking forward to welcoming in parents and have them come in and speak to us and get to know more about what we are offering the kids and what we can offer them as parents."
Shane Owen - Secondary Physical Education Teacher
Shane is from a medium sized town in Shrewsbury and earned his degree in Sport and Physical Education from the University of Wales and his PGCE in Secondary PE. He first worked in Wolverhampton before moving to Kuala Lumpur to work at a British school.
"I came with my partner who is from Malaysia and Belgium. She works here in Bangkok at another international school. As a sports educator naturally, I love all kinds of sports; football and golf are the main two. I like to go to the gym, to go hiking and look for wildlife and I love diving. I quite like reading but not fiction, non-fiction only for me! I also prefer documentaries. In Malaysia I ran a big sports programme and went around filming sports for Astro TV. That was a lot of fun.
I actually went into coaching because I broke two bones when I was doing my A level PE course, so I was assessed in Coaching instead of PE. My teacher suggested doing a training education course, so I pursued Sports Science and PE. I worked in Primary schools and really enjoyed it.
I am a quiet coach; I think it is important to be approachable and calm.  A coach needs to know what he is talking about and be passionate and motivated. If you don't want to be there the kids won't want to be there either and they won't get anything from you. On a professional level, I want to establish good relationships with the students, not just in classes but also in my Tutor Group (Year 7) and also enhance my content knowledge of a variety of sports such as gymnastics and softball.
PE is important because it allows people to succeed and fail and be forced to deal with it there and then. Coupled with that is the mental health benefits, particularly at the moment. When you exercise positive endorphins are released and that is what makes people happy. If I am feeling bad, I will go for a run, go for a swim and I think we can educate kids to do that as well."
Sin-Hee Kim - Secondary Science and Biology Teacher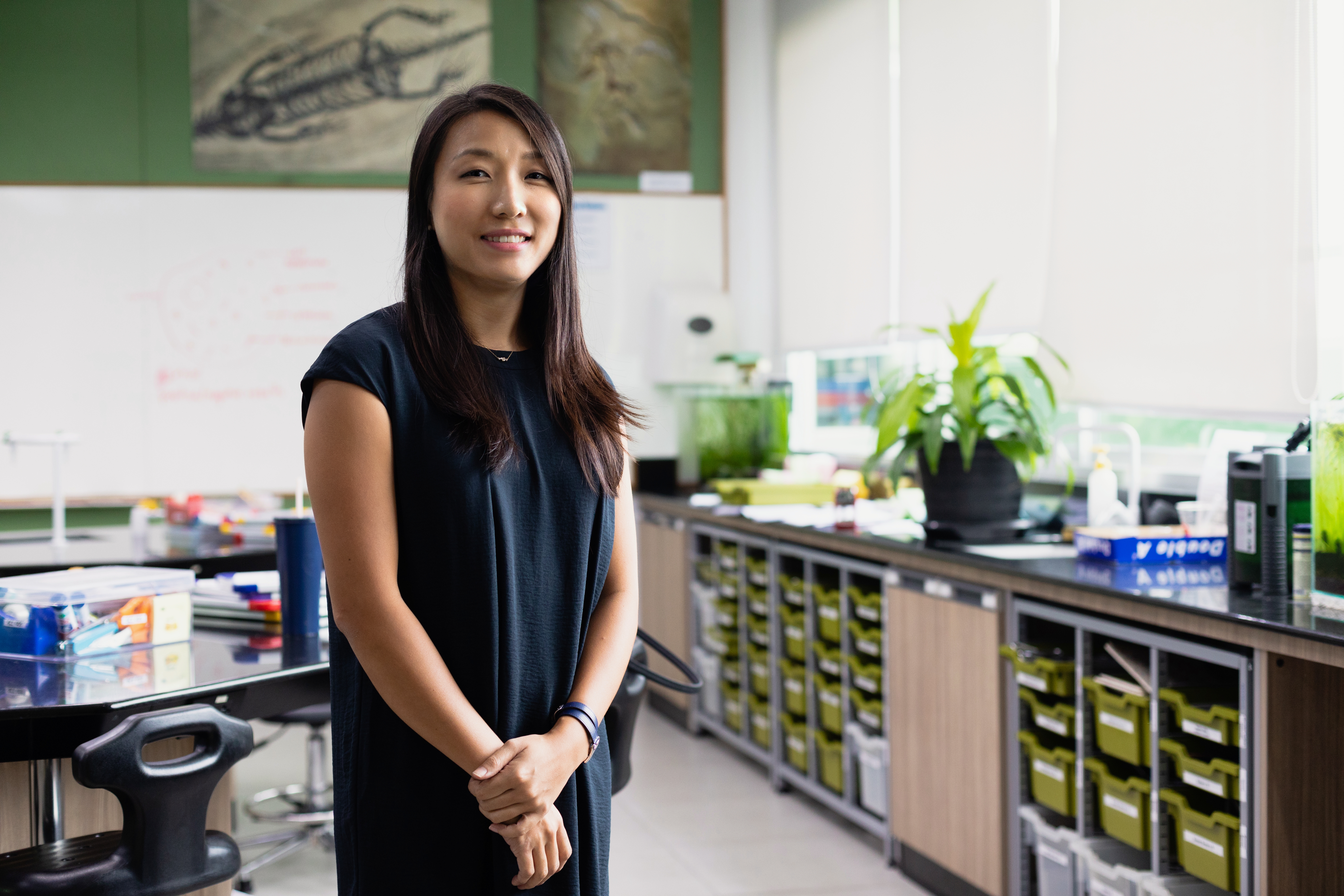 Sin-Hee was born in South Korea and moved to Toronto, Canada at the age of 10 with her family. She earned her BSc in Human Biology and Nutritional Sciences at the University of Toronto and then her BEd at York University in Science and Biology. She has taught in London and Jakarta.
"When I moved to London for my first job, it was my first time living abroad. At first it was a bit scary but really it was moving from one big city to another. Once you get used to it, you can enjoy another country and the culture. I really enjoyed travelling, I particularly liked Spain and Portugal; nice weather, good food and the people were very relaxed. That makes Thailand a good fit for me with amazing food, good weather, and friendly people! Thailand has always been one of my favourite countries to visit so I am thrilled for the opportunity to work and explore more.
I really enjoyed the ECAs at my school in Jakarta and am looking forward to getting involved here. I have already completed the Duke of Edinburgh's International Award training for staff and will be going on IAs this year. I am also very interested in environmental sustainability and have enjoyed working with students to raise awareness; I want to continue with that here through the Student Environmental Committee. When I'm not at school, I enjoy cooking as I find it really relaxing. I have taken Thai cooking classes before and it was a lot of fun. If I have a strong craving for something, I try to learn to cook it. I also like yoga and running.
The Science Centre is one of the most impressive facilities I've ever seen in a school. I love the solar panels on the buildings as they are great for sustainability. We are leading by example. The Science labs at Bangkok Patana are very modern and highly effective in mediating student learning. They work extremely well with giving the students the freedom to explore and investigate. There is so much work they can do and fully supports the way of moving to students to a flipped classroom to explore.
I believe it is important to make a connection with students to better understand what their needs are. Many students believe they don't like Science or are scared of Science because they don't think they are good at it. I really loved it as a kid, and I want kids to see it as something interesting and approachable. I feel it is crucial to make them genuinely interested and care about the subject. When I was in Grade 8, I had a great teacher who was really strict but made me realise I could be good at it. Science is constantly changing, and I don't want to just focus on teaching students existing information, but to think about what they can do with Science, using innovation and technology. I know for many teachers it school is another part of their daily life, but you never know how you are going to influence someone and their future, like my Science teacher did!"
Taher (Taz) Ebrahim - Secondary Business Studies and Economics Teacher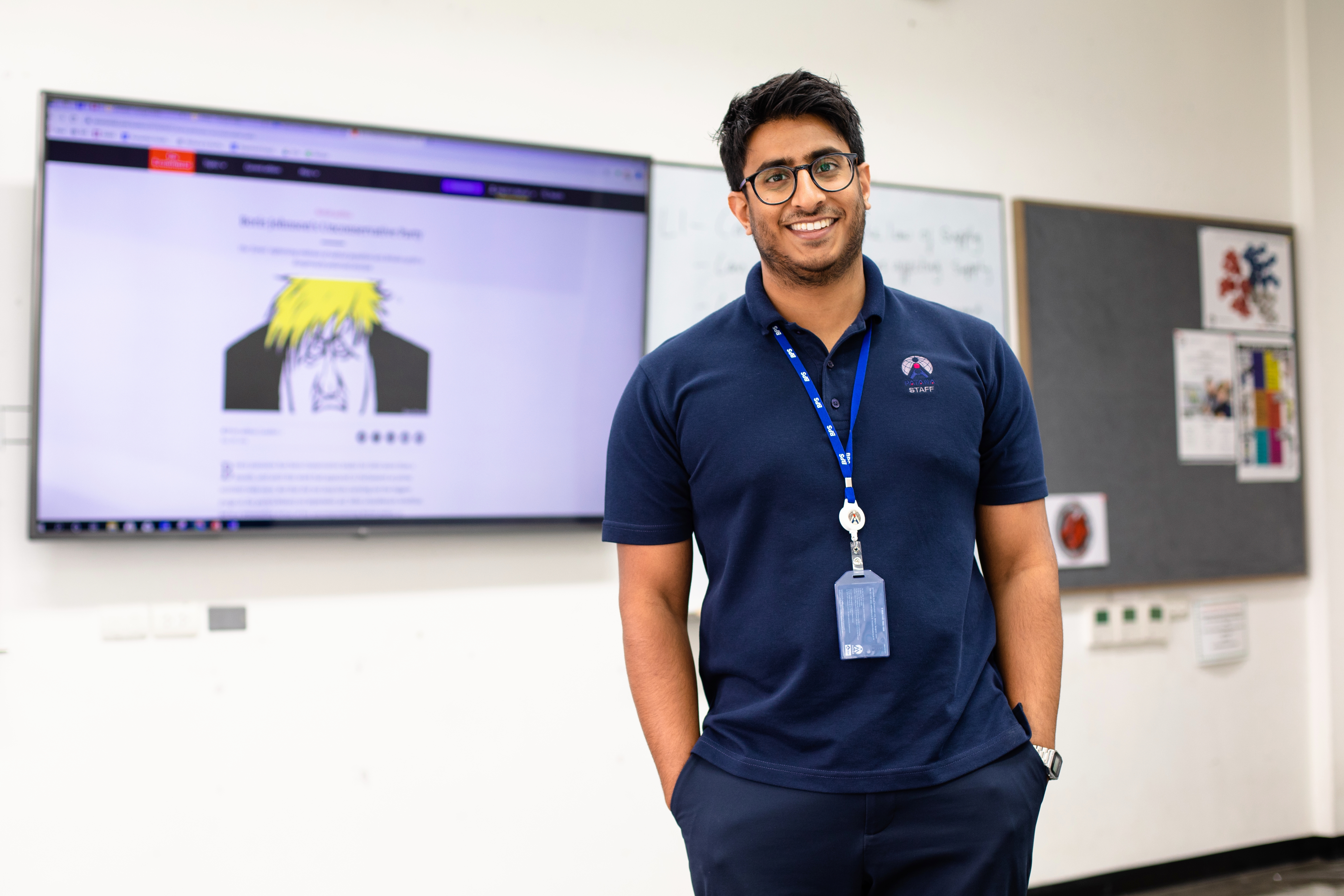 Taz earned his BSc in Economics at Cardiff University and his PGCE in Economics and Business at the University of College London, Institute of Education. Before entering education he worked as an IT consultant.
"While I was in university I co-founded a gym, I was more into fitness. I turned one of our properties into a gym and then Cardiff University bought it. Following that I went into IT consultancy. I learned a lot and during that process I met one of my friends who saw me presenting a lot and she thought I would be really good as a teacher as so much of my presenting involved learning. I had actually wanted to be a PE teacher at a school but did my degree in Economics.
I realised quickly that wasn't the path for me and embarked on my PGCE at UCL. I have enjoyed working in two comprehensive schools over five years; three of them as the Head of the Economics Department. I am here with my wife, she is also from the UK and, like me, has never lived overseas so we are very excited to begin our new lives at Bangkok Patana School. Most of my hobbies are based around sport, I like kayaking a lot and hope to do some water sports. I am a big Man U fan but also watch cricket and rugby.
I went into teaching because I wanted to be a teacher when I was at school. I was lucky enough to go to a grammar school that was really brilliant and had great teachers, I found my coaches really inspirational. In my IT job I really enjoyed heading meetings and making presentations – I was happy to be in front of a group of people, becoming a teacher felt like a natural transition.
I could tell that Bangkok Patana School had better organisation than other schools, the interview process was much more stringent, more directed questions. All my research showed that Bangkok Patana was everywhere, and everyone had something good to say. The induction process was great, you feel part of the family. This is the first time a headmaster has said 'You are the best in the field that is why you are here.' You feel like a part of the family.
I think a good teacher needs to be consistent, somebody whose subject knowledge is excellent and who is passionate about the subject and education. Someone who knows the line between being a friend and being a teacher, about the need to set boundaries.
Economics and business, enterprise skills, are at the forefront of everything. If you look at current affairs it has to do with economics and business, even the political ones are business based. It is such an important subject that everybody needs to read around the current affairs with some grounding in economics and business. I was thinking to get involved in enterprise related ECAs also to find ways to increase the scope of business and economics in school, perhaps in the lower grades. I am looking at this for the long-term, I plan on being really established here and perhaps administration one day."
Zoe Ball - Secondary English Teacher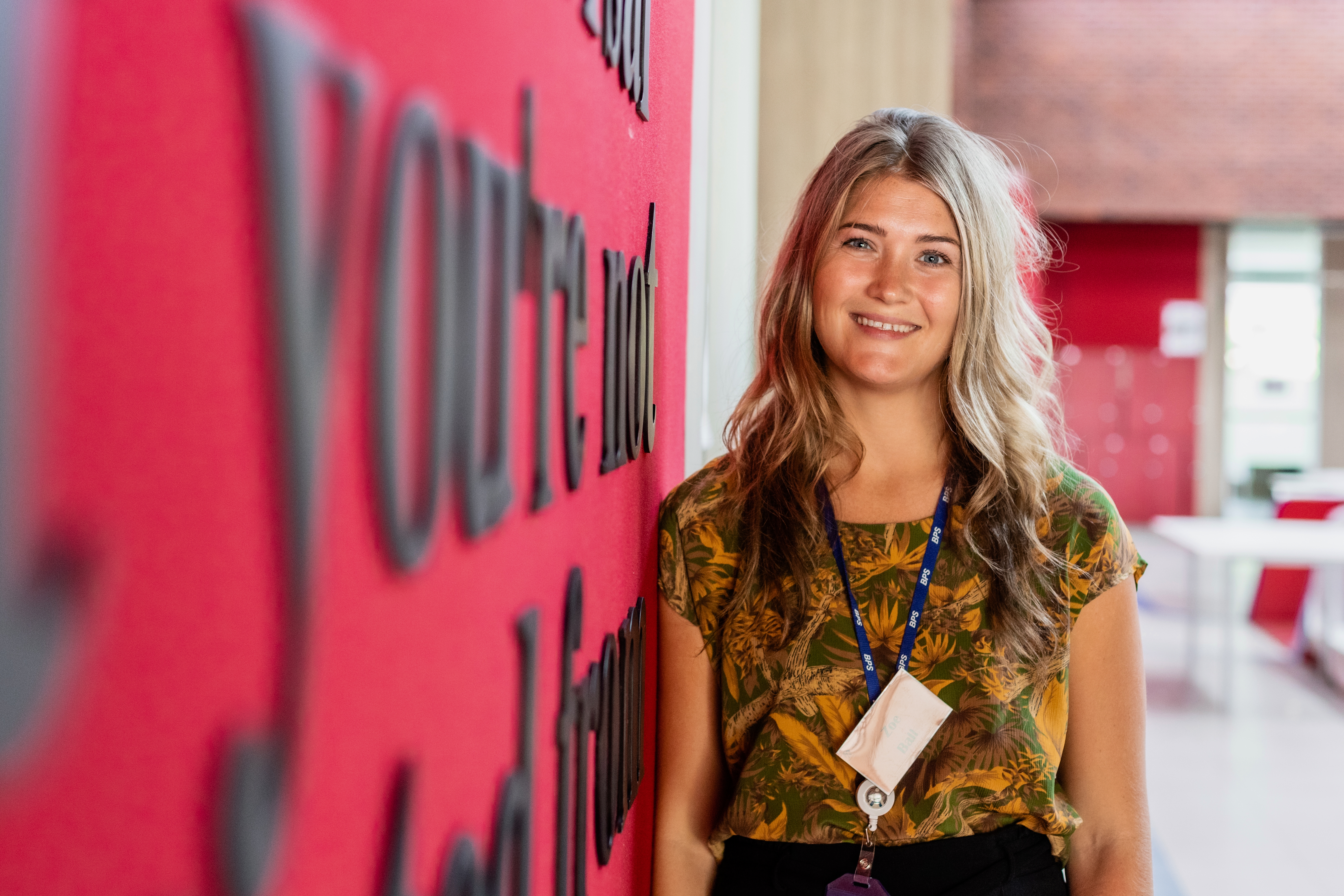 Zoe grew up in rural Essex and attended the University of Leicester where she earned a BA in International Relations and English. She earned her Master's in Educational Leadership from the University of College London and her PGCE in Secondary English from Canterbury Christ Church University. Zoe has been working at a school in Siem Reap that assists the children of rice paddy farmers to prepare for college both in Cambodia and overseas.
"After I finished my BA in English and International Relations, I spent several years travelling and working before embarking on the Teach First programme in London. Through this, I obtained my PGCE in Secondary English and Master's in Educational Leadership. After a four-year stint at a challenging London Secondary School, I moved Siem Reap, Cambodia to an academically selective school which aims to prepare rural Cambodian students from low- income backgrounds for an American-college education. I love living in Southeast Asia – the weather, the people and the food are divine. I enjoy all forms of movement – especially cycling, dancing and yoga – and look forward to participating in some activities in Bangkok!
In the Teach First programme I worked with young people who needed lots of support and from multicultural backgrounds and I was really attracted to that idea and was intrigued by how to facilitate that among my students. One of the things that is so appealing about Bangkok Patana School is that it is very multicultural. I am looking forward to helping the students bring the richness of their multicultural backgrounds into my classroom.
I am feeling incredibly positive about the amount of resources that are available to the students and teachers here at Bangkok Patana. I am impressed with the library and the support available. You can book the librarians to make presentations on specific subjects. Learning support and the degree of support that is available to the students is really impressive. It seems as though everything is so personalised, that each student is nurtured and pushed to be their best. It really shows that the resources are put back in the school.
I hope that I am able to encourage students to question and to look at a text from a variety of different perspectives and to acknowledge that there isn't a blanket interpretation. I want to help them to question, to look at the time period and how it relates to the context. One of my favourite books is the Poisonwood Bible by Barbara Kingsolver, I really like The Handmaid's Tale by Margaret Atwood and always encourage the students to read the book first. You get so much more out of the context than you do by watching the show.
I am very open to questions and to discussing texts and ways parents can support their children if they want. I'd love to start a student – parent book club where parents and students can discuss books together. I had that discussion in my family growing up and having those discussions engaged me to look at the text in a different way."